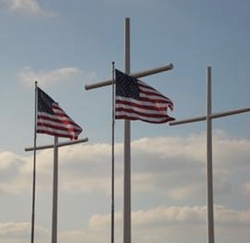 I am ready to lay my life down for something that's worth living for…and dying for. So if you're passionate about America, and the Gospel of Jesus Christ, and saving the soul of this Country, than join with me in this journey together. Pastor Jay
Shenandoah Valley, VA (PRWEB) July 29, 2010
Just outside the nation's capital, 65-year old Pastor Jay Ahlemann, who has been preaching God's Word for over 46 years and still preaches every Sunday, is preparing to embark on perhaps the most difficult assignment of his life: a 500 mile walk through the Shenandoah Valley to spread the Word of God.
Pastor Jay is far from your ordinary Sunday preacher. Pastor Jay has spent the past four plus decades refusing to be silenced, intimidated, or backed down from the media when it comes to controversial issues such as abortion, gay marriage, Socialism, President Obama "bowing" to Islam, and supporting Israel.
Back in 1998, Pastor Jay was targeted and ridiculed by the national and local media, largely because he was the only Pastor in Loudoun County who strongly and publicly opposed the Islamic Saudi Academy in Northern Virginia.
Looking back, many people, including some of our Nation's leaders, understand that Pastor Jay was ahead of his time on this issue, which occurred several years before that fateful day on September of 9/11.
Many believe the grueling 500 mile walk through the Shenandoah Valley Pastor Jay will embark on beginning August 2nd in Waynesboro, PA will be one of the most difficult assignments of his life.
After recently turning age 65, Pastor Jay believes he is ready, willing, and able to do whatever it takes to send out the all-important messages of bringing our Nation back to God and Country and these Judeo-Christian Principles set forth by our Founding Fathers:

The Sanctity of Human Life (born and unborn)
The Traditional Family and Marriage (between a man and a woman)
A National Work Ethic (not a Socialistic and Welfare culture)
The Right To a God-Centered Education
The Abrahamic Covenant (Stop "bowing" to Islam, and standing up for Israel)
Common Decency
Our Personal Accountability To God
Another goal of Pastor Jay's 500 mile walk is to promote the importance of offering wholesome Christian TV Programming into the homes of as many families as possible across America.
In the Shenandoah Valley area, the Christian TV Network WAZT has been the only local Christian TV Network for homes and families since 1985. When Pastor Jay learned WAZT was being sold to a group who would no longer be continuing their all-important Christian TV programs, Pastor Jay organized a small group to purchase WAZT so it could remain a valuable addition to the Shenandoah Valley area and families.
Recently WAZT was blessed with a unique opportunity to secure an FCC License to expand their coverage area, bringing a new Digital Channel 46.1 into thousands of new homes in the Northern Virginia/DC Metro area.
100% of all donations are fully tax-deductible, will be used specifically for helping improve the quality and coverage of WAZT's Christian TV Programs, which currently airs America's most widely viewed Christian TV shows such as Pat Robertson's 700 Club, Joyce Meyer, Charles Stanley, Jonathan Falwell, John Hagee, Gaither Homecoming, and many others.
For more information on Pastor Jay and his journey through the Shenandoah Valley, contact Chris Hill at (540) 459-8810, email at mitzi(at)watchfaith(dot)net or visit http://www.faithforournation.com.
###