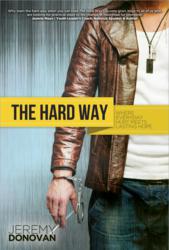 It is a must-read for every parent and teenager. Donovan takes risks in telling his story, but those risks have the potential to save the lives of his readers, who will find solace and guidance in his words.
Tulsa, OK (PRWEB) December 16, 2012
Donovan, now a Youth Pastor, was not always so stable or so successful; at one time, he found himself deep in the clutches of drugs, anger, and depression. It is this story of triumph and redemption that he shares with his readers, saving others from learning things "the hard way."
Too often, people who are on paths of self-destruction feel completely hopeless, as though their backs are up against a wall. In his new book, The Hard Way, Jeremy Donovan offers a guiding hand to lead his readers away from that path and give them the hope that they need to lift themselves up out of the "rut lifestyle."
Anyone who finds themselves a victim in their own lives will be moved by Donovan's story. Just a decade ago, he found himself in the clutches of drugs, depression, and anger. He found himself at rock bottom, but, through the guidance of God, he turned his life around, "I did hit rock bottom with a crash, but I did not lay there and die."
Donovan rewrote his story, changing it from one of tragedy to one of hope, redemption, and triumph. Today, Donovan is a youth pastor and is married with a happy family, "Today I can say, 'Life is amazing and I am no longer among the walking dead. I am truly alive!'" He reminds his readers that they, too, can remove themselves from the grip of self-destruction, "Keep your head up because you are God's favorite." It is this same message of hope that he offers on his show on http://RevTV.com.
Donovan's story offers a powerful message of hope, reminding readers that hitting rock bottom does not have to be the end of their story, that it is possible through God's love, hard work, and the influence of good people to rewrite their story, turn their lives around, and find the path that they were meant to be on. The Hard Way is a life-transforming read that will save the lives of many people who are on their way to rock bottom or who are already there.
Jeremy Donovan
After a lifetime of struggling with inner demons, anger, and addictions, Jeremy Donovan encountered God in a rehab center and began the healing process. He has since gone on to become the youth pastor of Destiny Life church, a multi-campus church in the Tulsa, Oklahoma area.
In 2008, he along with friend and ministry-partner, Matt Moore, founded "The SOZO Movement." Sozo is a series of testimonies from everyday people sharing the love and power of Jesus Christ. Jeremy is highly involved in Master's Commission, USA, the Bible College/Discipleship program he attended after coming out of a rehab program. His book, The Hard Way, has already received notable endorsements that include Matthew Barnett and The Dream Center, among others.
Jeremy Donovan's show airs on http://RevTV.com.