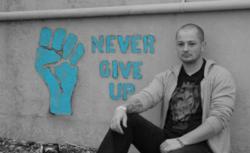 It is a must-read for every parent and teenager. Donovan takes risks in telling his story, but those risks have the potential to save the lives of his readers, who will find solace and guidance in his words.
Tulsa, OK (PRWEB) December 24, 2012
In his book, The Hard Way, Donovan offers his readers invaluable advice for helping them get back to normal. Some of the wisdom that he shares with his readers includes:

Those in a destructive lifestyle will risk their lives to get another fix. They risk prison, and risk losing those closest to them. Coming out of the rut means you can still risk, but now you will risk good!
Don't try to go it alone. You will definitely need God's help; you will also need God's people. Surround yourself with those who love you, who support you, who believe in you.
Emotions are God-given, but you need not be ruled by your emotions. Learn to control your emotions, and you will stand stronger than before.
Jeremy Donovan extends his hand to guide his readers back to normal. It is this same guidance that he offers in his show on http://RevTV.com. Getting back to normal does not have to be a hard road with the assurance of someone who has been there, offering their knowledge and the comfort that those on the path back to normal are not alone in their struggles.
The Hard Way will undoubtedly save many readers who are at rock bottom or who are on their way to rock bottom from the rut that they find themselves in. Through God, God's people, and Jeremy Donovan, many lives will be saved.
Jeremy Donovan
After a lifetime of struggling with inner demons, anger, and addictions, Jeremy Donovan encountered God in a rehab center and began the healing process. He has since gone on to become the youth pastor of Destiny Life church, a multi-campus church in the Tulsa, Oklahoma area. In 2008, he along with friend and ministry-partner, Matt Moore, founded"The SOZO Movement." Sozo is a series of testimonies from everyday people sharing the love and power of Jesus Christ. Jeremy is highly involved in Master's Commission, USA, the Bible College/Discipleship program he attended after coming out of a rehab program. His book, The Hard Way, has already received notable endorsements that include Matthew Barnett and The Dream Center, among others.
For more information, please visit Jeremy Donovan's newly revamped website at http://jeremydonovan.me/.
Jeremy Donovan's show airs on http://RevTV.com.
Follow The Hard Way on Twitter at http://www.twitter.com/thehardwaybook.