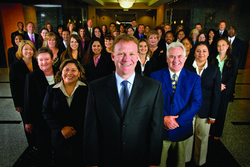 I haven't had a crew cut on top since I was 7 years old
Columbia, MD (PRWEB) August 14, 2007
The Pat Hiban Real Estate Group in Columbia, Maryland (http://www.hiban.com) now has a boss with no hair, and team members took turns as honorary hair stylists shaving their boss' head, thanks to meeting a lofty sales goal last month. Pat Hiban of the Pat Hiban Real Estate Group with Keller Williams in Columbia, Maryland, promised the agents in his office if they did 125 transactions (listings, buyer sales and listing sales), that he would let them shave his head.
"I haven't had a crew cut on top since I was 7 years old," says the now 41 year-old Hiban. "Prizes like these motivate the entire team and not just a few agents. This gets everyone from the courier to the receptionist involved in the process and as they say, 'teamwork makes the dream work.' They get such a kick out of making me look like an idiot too. That one I don't truly understand, but if it works, I'm usually game."
Hiban was willing to alter his image, the one that's plastered over TV sets, billboards and the local newspaper for the past 20 years, if his agents would step up their game. At first, it didn't look good. The average month last year was about 50 units per month, which meant they would have to do 10 more transactions per month to make the goal.
But as time went on and meeting the goal became more possible, Hiban's agents got more and more motivated to sell. The results can be seen on the attached video, documenting the days leading up to the goal and the resulting head shaving extravaganza.
This isn't the first time Hiban has suffered supreme humiliation to motivate the team. In years past, Hiban has eaten a live cicada, performed the worst job at the company for a day and allowed the team to throw pies in his face if they made the spring goal.
About the Pat Hiban Real Estate Group
Pat Hiban has been a broker in Howard County, Maryland for 20 years. His team sells close to 500 homes per year on average, with a yearly sales volume exceeding 200 million. Pat is one of the only agents in the world who can legitimately say that he has sold over one billion dollars worth of residential real estate. Pat teaches courses on leadership, marketing and balanced living nationally and is currently writing his first book on the subject of motivation, teamwork and leadership. His company website is http://www.hiban.com.
###