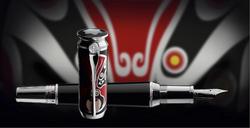 San Gabriel, CA (Vocus) February 23, 2010
In addition to from being a reputable distributor of world-known timepieces such as Patek Philippe, Harry Winston, and Gucci, among others, Chong Hing Jewelers also organizes special events for its clients. This month, Chong Hing Jewelers, the authorized distributor of the Patek Philippe brand, is partnering with Montblanc to showcase the Beijing Opera Limited Edition Fountain Pens as a salute to China's celebrated Beijing Opera. Montblanc only produced 88 of these pens as a reference to what the Chinese consider a lucky number – 8. The event also highlights the Montblanc Star Nicolas Rieussec Monopusher Chronograph.
Montblanc's Beijing Opera fountain pens are characterized by the red mark on the cap and the nib, symbolizing Hou Yi – the archer of gods who represents bravery, loyalty, and integrity. On the clip is a Shou symbol, which stands for good luck and longevity. Featuring a 750 solid white gold fountain pen and a cap with lacquer inlays, the limited edition fountain pens have a precious black lacquer barrel and rings set with 167 diamonds. Additionally, Montblanc's logo is laid in an exquitise mother-of-pearl setting. Running from Februrary 19-28, 2010, the show will be held at 140 W. Valley Blvd., Suite 119, San Gabriel, CA. A part of the proceeds from the auction will be donated to the efforts to provide earthquake disaster relief in Haiti.
Over the years, Montblanc has expanded its product range to leather goods, belts, and eyewear. Consequently, Montblanc's line of writing instruments, time pieces, and beautiful jewels has allowed it to become a Swiss brand synonymous with style and elegance. Montblanc's collection of writing instruments include Meisterstuck, Boheme, Starwalker, and Etoile de Montblanc while the timepiece collection carries the Star Nicolas Rieussec, Star 4810, Travel Timepieces and Collection Villeret 1858.
A purveyor of high end goods such as Patek Philippe wristwatches, Chong Hing Jewelers proudly carries the complete line of Patek Philippe watches, Omega's 2009 "New Constellation Collection", and has recently added A. Lange & Söhne to its collection of fine watches. As the authority in Patek Philippe watches, Chong Hing Jewelers also offers clients a wide range of gift choices, loose diamonds, and fine gems. Sign up with the company's newsletter or visit Chong Hing Jewelers' official blog for the latest news, tips, and other helpful information in the world of horology and timekeeping.
About Chong Hing Jewelers
Chong Hing Jewelers, a purveyor of high-end watches and jewelry, has built a reputation for unparalleled service and value. Chong Hing Jewelers is proud to be an Authorized Dealer for esteemed brands of exclusive Swiss watches, rings, necklaces, bracelets, earrings and other Gifts & Accessories. Chong Hing Jewelers' collection of loose diamonds, engagement rings, 18k yellow gold, white gold, rose gold and platinum jewelry is sure to fit every personality, attitude and lifestyle, even the most discerning of customers. Press release produced by Cybertegic.com - an Internet marketing services agency that specializes in search engine optimized press release marketing (SEO marketing).
###