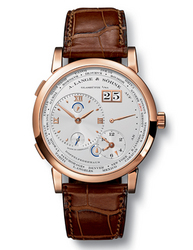 Los Angeles, CA (PRWEB) December 25, 2009
Well-known distributor of Patek Philippe watches Chong Hing Jewelers is celebrating its 40th year as a luxury goods retailer. Chong Hing Jewelers' San Gabriel banch is now an official dealer of A. Lange & Söhne, a German watchmaking company in the ranks of Swiss watchmakers such as Patek Philippe, Audemars Piguet, and Vacheron Constantin. Rather than operating by quartz, all Lange watches are mechanical driven. A. Lange & Söhne, literally translating to A. Lange and Sons, pioneered the double split chronographs and the 31-day reserve mechanical watch.
Celebrated for its highly distinctive look, Lange watches are mostly made of precious metals such as gold and platinum, instead of steel. This feature is one of the reasons for the success of the A. Lange & Söhne brand. Additionally, most Lange timepieces sport a display back, allowing its wearer to view the mechanism that makes the watch work. Included in the Lange collection are the Lange 1, Saxonia, Zeitwerk 2009, and several limited watches such as Lange 1 Tourbillon and Anniversary Langematik.
Chong Hing Jewelers are not only purveyors of high-end watches such as the Patek Philippe Collection. Chong Hing Jewelers also organizes special events for timepiece collectors, horologists, and jewelry lovers. The Patek Philippe distributor has successfully hosted events for watchmakers such as Breguet, Jaeger Le-Coultre, Omega, and Panerai. Because of Chong Hing Jewelers love for luxury watches and fine jewelry, the leading Patek Philippe authority also carries venerated brands such as Chopard, Tag Heuer, and Mont Blanc, to name a few.
By signing up with Chong Hing Jewelers' newsletter, valued customers are entitled to an exclusive peek on the latest red carpet events the company has in store. Additionally, Chonghing.com's official blog offers the latest news in the world of watchmaking as well as useful information and tips on high end watches and jewelry.
About Chong Hing Jewelers
Chong Hing Jewelers, a purveyor of high-end watches and jewelry, has built a reputation for incomparable service and value. Chong Hing Jewelers is proud to be an Authorized Dealer for esteemed brands of exclusive Swiss watches, rings, necklaces, bracelets, earrings and other Gifts & Accessories. Chong Hing Jewelers' collection of loose diamonds, engagement rings, 18k yellow gold, white gold, rose gold and platinum jewelry is sure to fit every personality, attitude and lifestyle for even the most discerning customer. Press release produced by Cybertegic.com - an Internet marketing services agency that specializes in search engine optimized press release marketing (SEO marketing).
###