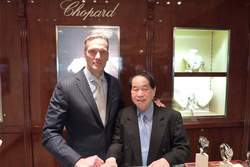 Los Angeles, CA (Vocus) March 28, 2010
Esteemed Patek Philippe distributor Chong Hing Jewelers continues its commitment to providing the latest news and products in the world of fine watches and jewelry. Chong Hing Jewelers is still celebrating the recent success of organizing two special fine watch and writing instrument events. Last February 27, 2010 saw the Unveiling of the Beijing Opera Mask Limited Edition fountain pens by Montblanc, a brand Chong Hing proudly carries. Montblanc's Beijing Opera Mask Limited Edition fountain pens are a tribute to China's world-renowned Beijing Opera. Producing only 88 of these luxury fountain pens, MontBlanc recognizes that eight is a lucky number for the Chinese. From writing instruments to luxury watches, Montblanc has already extended its line of products to leather goods, belts, jewelry, and eyewear.
In addition, the authorized Patek Philippe distributor has just concluded organizing Chopard's Relaunch in San Gabriel, California. With an area of about 110 sq ft., Chong Hing's San Gabriel branch offers a full range of Chopard products, from luxury timepieces to fine jewelry. With a newly-opened boutique in San Gabriel, Chopard can now offer its extensive collection of the finest Chopard timepieces in partnership with Chong Hing Jewelers. Recognized as one of the leading brands in fine watches, Chopard will be celebrating its 150th anniversary this 2010.
Luxury watches such as Patek Philippe, Omega, and Panerai are the core of Chong Hing Jewelers' business. However, the authorized Patek Philippe distributor also carries fine jewelry, gems, and loose diamonds with brands such as Mikimoto, Kwiat, and Roberto Coin in their collection. Sign up with Chong Hing's newsletter or simply visit the company's official blog for helpful information, tips, and the latest news in wristwatches, fine jewelry, and horology.
About Chong Hing Jewelers
Chong Hing Jewelers, a purveyor of high-end watches and jewelry, has built a reputation for incomparable service and value. Chong Hing Jewelers is proud to be an Authorized Dealer for esteemed brands of exclusive Swiss watches, rings, necklaces, bracelets, earrings and other Gifts & Accessories. Chong Hing Jewelers' collection of loose diamonds, engagement rings, 18k yellow gold, white gold, rose gold and platinum jewelry is sure to fit every personality, attitude and lifestyle, even the most discerning of customers. Press release produced by Cybertegic.com - an Internet marketing services agency that specializes in search engine optimized press release marketing (SEO marketing).
###