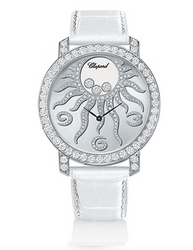 Los Angeles, CA (Vocus) April 24, 2010
Vowing to provide only the best in luxury watches, with brands such as Patek Philippe, Chong Hing Jewelers has recently concluded the celebration of Chopard's 150th anniversary. In partnership with luxury goods provider Chong Hing Jewelers, the well-known Swiss brand Chopard marked the celebration by re-launching their San Gabriel branch. Staying true to their globally consistent design, Chopard's San Gabriel branch features a vast area of about 110 sq ft. filled with the most exquisite collection of jewelry and fine watches that only Chopard can offer. Present in the affair were Chopard's North America CEO-Marc Hruschka, Marketing Manager James Negri and Prosperity Jewelry President Ronald Lee, who also co-chaired the ceremony.
Valued for their creativity and quality, Chopard watches are made with superior parts and the best watch-making technology. No other brand can compare. In 1976, with their exquisite line-up of products, from timepieces to pocket watches, Chopard's Happy Diamond series set the standard for unique designs of jewelry and watches with precious stones. Then, in 2000, Chopard introduced the world's first LUC Quattro Watch, featuring four winding core boxes and enough power storage for nine days.
Chopard and Chong Hing Jewelers are known for their integrity, authenticity and excellent customer service, and they only want the best for their customers. Aside from Chopard, other world-renowned Swiss watchmakers such as Patek Philippe, Omega, and Breguet are the core of Chong Hing Jewelers' business. Chong Hing Jewelers also offers fine jewelry, gems and loose diamonds from brands such as Mikimoto, Kwiat and Roberto Coin. For the latest tips and news in the world of watch-making and fine jewelry, sign up for the company's newsletter or visit Chong Hing's official blog.
About Chong Hing Jewelers
Chong Hing Jewelers, a purveyor of high-end watches and jewelry, has a reputation for incomparable service and value. Chong Hing Jewelers is proud to be an authorized dealer for esteemed brands of exclusive Swiss watches, rings, necklaces, bracelets, earrings and other gifts & accessories. Chong Hing Jewelers' collection of loose diamonds, engagement rings, 18k yellow gold and platinum jewelry is sure to fit every personality, attitude and lifestyle, even that of the most discerning of customers. This press release was produced by Cybertegic.com - an Internet marketing services agency that specializes in search engine optimized press release marketing (SEO marketing).
# # #