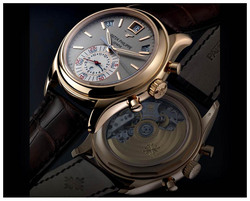 Los Angeles, CA (Vocus) September 24, 2010
Well-known purveyor of luxury goods, Chong Hing Jewelers, proudly announces their 40th anniversary with the complete line of Patek Philippe luxury timepieces that collectors are bound to love. Come celebrate at the Chong Hing Jewelers' trunk show from October 8th to October 23rd, complete with all of the collectable, unique, and classic Patek Philippe luxury watches for which Ching Hing Jewelers is so well known. Also come and celebrate with Ching Hing Jewelers on October 23rd with lion dance, ribbon cutting, and raffle events at the Ching Hing Jewelers San Gabriel location.
Included in Chong Hing Jeweler's Patek Philippe collection are men's watches such as the Calatrava, Golden Ellipse, Aquanaut, Nautilus, Grand Complication and Exceptional watches which have long been favorites for watch-lovers around the globe. The Patek Philippe brand also carries fine watches for women which is why Chong Hing Jewelers carries ladies watches from the Patek Philippe brand like the Patek Philippe Twenty~4 Ladies Watch, Complicated 18kt White Gold Moon Phase Diamond Ladies Watch and the Aquanaut Luce Stainless Steel Ladies Watch. Accessorizing the feminine wrist has just gotten sexier with these latest ladies watches from Patek Philippe.
Aside from luxury watches, Patek Philippe also carries a limited production of pocket watches, clocks, and fine jewelry. With over 70 patents to its name, the Patek Philippe brand has truly occupied one of the most important places in watchmaking. The recent creation of the Patek Philippe seal attests to the excellence of the Swiss watchmaker's brand as it marks its name in the world of luxury watches.
Chong Hing Jewelers, an authorized Patek Philippe distributor, offers clients the highest quality in luxury goods, fine gems, and elegant timepieces. For over 40 years, Chong Hing Jewelers has provided its discerning clientele the best gems, jewelry, and watches any collector would love to have. Chong Hing Jewelers also carry top designer brands like Harry Winston, Gucci, Omega, and MontBlanc, to name a few. Sign up with the company's mailing list or visit ChongHing.com's official blog for the latest updates in Patek Philippe, luxury watches, and other tips watch lovers will find useful.
About Chong Hing Jewelers
Chong Hing Jewelers, a purveyor of high-end watches and jewelry, has built a reputation for incomparable service and value. Chong Hing Jewelers is proud to be an Authorized Dealer for esteemed brands of exclusive Swiss watches, rings, necklaces, bracelets, earrings and other Gifts & Accessories. Chong Hing Jewelers' collection of loose diamonds, engagement rings, 18k yellow gold, white gold, rose gold and platinum jewelry is sure to fit every personality, attitude and lifestyle for even the most discerning customer.
# # #