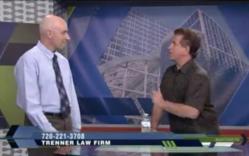 [The Trenner Law Firm] offers a very good price for people who want to just get a search and legal opinion as to whether or not they should move forward with trying to get a patent. For $495 you can find out if your idea is basically patentable
Denver, CO (PRWEB) November 05, 2011
After providing corporate and small business patent services in Colorado for over a decade, Colorado patent attorney Mark Trenner announces the opening of his online patent law firm to provide a convenient, affordable way to protect inventions and ideas working locally, regionally and nationally.
The advantage of Trenner Law's online patent law firm is that clients work directly with an experienced corporate patent attorney via telephone, email and or fax. This enables clients to save the time and money associated with face-to-face meetings, including meeting time, office overhead and travel related expenses.
Of course, if clients want to meet with patent attorney Mark Trenner in person he has multiple office meeting locations at offices along the Colorado front range including Denver, Boulder, Interlocken, Broomfield, Golden, Littleton, Longmont, Louisville & Lone Tree.
Mark was recently interviewed on the well-known consumer advocate TV show hosted by Tom Martino.
Link to Patent Attorney Denver Video
"[The Trenner Law Firm has] offers a very good price for people who want to just get a search and legal opinion as to whether or not they should move forward with trying to get a patent. For $495 you can find out if your idea is basically patentable," says Martino
With a small investment inventors can save themselves a lot of time and money by first finding out if their idea is already patented and/or patentable. Mark Trenner's online patent law firm can do a patentability search to make sure your idea has not already been patented for only $250. They also offer an enhanced $495 package that includes a prior artwork search and a written analysis of the patentability of your idea by Mark. "Often when I provide the search results to a client, the inventor says 'I didn't realize there were already so many products similar to mine.'" Mark continues; "It's better to find out up front, before you spend a lot of time and money and invest your whole future into this invention, if it has been patented already, then move on and pick the next big idea. If it hasn't, then let's move forward with protection that locks in your rights so no one else can take it protecting your invention."
Trenner Law's online law firm offers package priced services so inventors or other clients with ideas can estimateknow their costs up front, and can save money without compromise. Of course, they still work directly with a patent attorney.
You can learn more about Mark Trenner and Trenner Law Firm, LLC or start online with a client application via the website: http://www.us-patentattorney.com, or contact Mark Trenner at 720-221-3708.
###