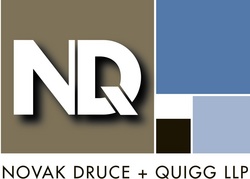 WASHINGTON & SAN FRANCISCO (PRWEB) September 17, 2008
This latest action by the PTO ends prosecution on the merits of the '419 patent. Tessera may appeal this decision to the Board of Patent Appeals and Interferences and to the Courts. The Requester of the inter partes reexamination may also participate in and put forth arguments against the '419 patent in any such appeal taken by Tessera. If the PTO's decision is not reversed on appeal, all claims of the '419 patent subject to the reexamination will be cancelled by the PTO.
The reexaminations were requested by Siliconware Precision Industries Co. Ltd. taking advantage of the Patent Office's new inter partes reexamination procedures for addressing validity issues.
Gregory V. Novak is leading the reexaminations with James P. Murphy and Suni Sukduang at Novak Druce + Quigg LLP.
For additional information or a sample copy, contact:   Name:   Andres Arismendi III Title: Director of Marketing Company Name Novak Druce + Quigg LLP Telephone Number 713.571.3400 Fax Number 713.456.2836 Email Address andy.arismendi3@novakdruce.com
Web site address http://www.novakdruce.com
  NOVAK DRUCE + QUIGG (NDQ) LLP is a national firm focusing exclusively on complex intellectual property matters with more than 50 attorneys, agents, and scientific/technical advisors and analysts with offices in Houston, Texas; Washington, D.C.; and San Francisco, CA. NDQ attorneys help its clients navigate the complexities of U.S. intellectual property law by securing, enforcing, and defending their intellectual property rights. With the leadership of Gregory V. Novak and Tracy W. Druce, the firm has built a national reexamination practice including the successful involvement in the NTP cases on behalf of client Research in Motion (RIM) with 2,185 total claims rejected.