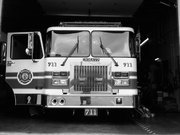 Bobby's desire to see the Grantham MechVent save a life is a great motivator of his tireless development efforts.

-- Attorney Dave Karasic
Bedford, Massachusetts (PRWEB) February 22, 2012
The Boston Area intellectual property law firm, Attorney Dave Karasic DBA Patents Etcetera, announces that the website for the innovative firefighting tool, the Grantham MechVent, is now open.
Conceived and developed by firefighter Bobby Grantham, the Grantham MechVent™, currently under patent pending protection, is a novel firefighting defensive tool which reduces the possibility of flashover, the explosive combustion of the contents of a burning compartment.
Flashover signals the beginning of the structural collapse danger. When operating at a fire, firefighters want to delay flashover inside a burning room. By delaying flashover, firefighters can "buy" several minutes which may be critical. For example, you may want to delay flashover to make a search and rescue of the burning room or to allow a firefighter to go to a room above or next-to the fire to rescue a trapped victim. Or, you may want to delay flashover to gain several minutes when there is a delay in the placement of the first fire hose.
The Grantham MechVent offers the capability of performing these lifesaving functions without exposing a firefighter to extreme peril since once the unit is in place and adjusted for the local conditions, it can run unattended, so rather than send firefighting personnel into a burning structure to assess whether flashover is imminent, this innovative firefighting tool allows the conditioning of the environment in the compartment being entered to reduce the chances of flashover by removing built-up heat and smoke prior to entry. An additional benefit of removing smoke buildup is increased visibility, allowing a more accurate assessment of the situation therein, further increasing the safety factor.
Anyone wanting more information about this ground-breaking firefighting tool is invited to visit the Grantham MechVent website or select the email link in the Contact Information box to contact Attorney Dave Karasic directly.
###