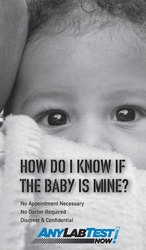 Plano, TX (Vocus) September 5, 2009
Any Lab Test Now® is now offering their basic paternity test at only $199 with no additional fees. This may initially sound expensive compared to the do-it-yourself DNA test kits selling online for little more than shipping costs. However, unknown to the consumer, they are actually only paying for a cotton swab and sterile container. There will then be a list of charges ranging from $150 to as much as $300 to cover anything from specimen collection to laboratory fees. More often than not, the consumer is unaware of these costs until the online vendor holds their test results until payment is complete.
Melodie Willoughby, Chief M.A. at the Any Lab Test Now® North Dallas locations recalls, "We hear horror stories all the time from customers who have paid as much as $400 in additional fees for what they believed was an affordable paternity test."
Apart from the additional fees, the largest drawback to do-it-yourself kits is the large margin of error. Performed correctly, a paternity test is 99.99% accurate. However, most errors occur due to improper specimen collection. Any Lab Test Now® North Dallas locations perform their DNA collections at their locations by certified Medical Assistants fully trained in DNA specimen collection.
In order for a national DNA laboratory to provide service nationwide, they set up "collection sites" in every major city. If you are referred to a local collection site for specimen collection, expect to pay a collection fee of around $25-$50 per collection. You are not always notified prior to purchase that this fee will be extra.
Any Lab Test Now® offers their basic paternity test for only $199 and no additional fees. A customer can walk in for a paternity test and have their results in two business days. Although there are currently no federal regulatory bodies that govern paternity testing, there are accrediting bodies. Any Lab Test Now® only uses CLIA and AABB accredited laboratories and has each DNA sample checked twice to ensure accuracy.
There are currently two Any Lab Test Now® locations in the North Dallas area. The Plano location is located on West Park Boulevard near Preston. The McKinney location will be opening October 1st and located on Eldorado Parkway near Lake Forrest Drive.
Apart from affordable paternity testing Any Lab Test Now® offers hundreds of medical lab tests direct to consumers. You can get truly anonymous STD testing or a complete checkup for 20-40% less than visiting a doctor's office or medical laboratory. They are currently offering flu shots for only $20. If you are looking for affordable paternity testing or other medical lab tests, walk-ins are welcome. You can call (972) 596-6181, or visit their website.
###