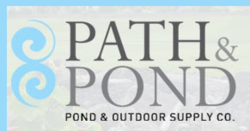 We offer extensive customer service to help customers choose what pond and water garden supplies they need.
Roseville, CA (PRWEB) August 10, 2012
Representatives with Path and Pond Inc. announced today that is has launched PathandPond.com, where visitors to its site will find a variety of online pond supplies.
"We're so excited to be able to bring and offer to the public what we have, which is one of the best selections of pond and water garden supplies online," Mark Dyba, president of Path & Pond Inc. "We offer extensive customer service to help customers choose what pond and water garden supplies they need."
As a special treat to visitors to the website, Pond & Path Inc., which was features on an episode of Yard Crashers (Tropical Pond Oasis) and won, "Best Waterfeature," is offering an additional 15 percent off until Sept. 1 for its Oxy Pond Cleaner Algae Control.
Dyba explained that what makes Pond & Path Inc. different from everything else on the market is that it spends time with potential customers sizing up products based on their desired pond or pondless waterfall dimensions.
He added that the company also builds custom kits for potential customers if one of its pre-made kits won't work for them.
"Our goal is to be different than any other pond supply retailer in the world," Dyba stressed. "We want to educate customers so that they will shop loyally with us."
The company president went on to say that his company personally answers every phone call and speaks to each customer for as long as they want or need to.
"Another great thing about us is that we process each order typically the same day and have been known on occasion to personally deliver packages to our customers," Dyba said.
About Path & Pond Inc.
Path and Pond was founded on simple, traditional business values that often get overlooked in our society. Path & Pond's core values is that we sell a product that actually does what it is supposed to: We know this sounds like a no brainer, but how many times have you bought something and were completely disappointed with the results of that product? Path and Pond sells a product for what it is, there's no sugar coating inferior products. We only sell what works.
For more information, please visit the site at http://www.pathandpond.com/ and the blog at http://www.pondlesskit.com/blog/.