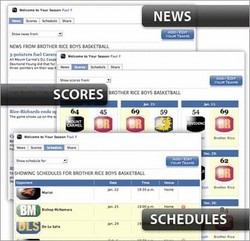 Social networks are a hub for teens and young adults not reached by print or online news
Chicago, IL (PRWEB) February 8, 2008
Pathfinder, a leading software development and user experience design firm, teamed with the Sun-Times News Group to deliver its new Facebook application: YourSeason.
"Social networks are a hub for teens and young adults not reached by print or online news", said Pathfinder Director Matt Nolker. "We saw an opportunity for the Chicago Sun-Times and the Sun-Times News Group to bring its sports coverage to a whole new audience by leveraging the power of social media and the vast array of local media outlets available through its network."
"Pathfinder played an important role in making YourSeason a reality for the Sun-Times and its community," said Jack Barry, director of new media business development at the Sun-Times News Group. "The application distributes content to new readers and creates new revenue opportunities."
The YourSeason project was developed in close collaboration between Pathfinder and the Sun-Times. Pathfinder applied Agile development techniques to deliver the application quickly and streamline development efforts.
"The YourSeason project was a great example of the benefits of Agile development", said Ivan Moscoso, Pathfinder's Technical Architect. "There were a lot of moving parts in the project, and the quick and frequent iterations helped us identify issues early and stay on track."
"Facebook is a dynamic platform. Things are constantly changing", added Sharad Jain, Pathfinder's Senior Developer on the project. "We worked together with the Sun-Times to develop an application that would be easy to maintain, and flexible, to grow with demand."
YourSeason is the Sun-Times' Facebook application that delivers the latest scores, schedules and statistics on local area high school teams. The Chicago Sun-Times is one of the largest daily newspapers in the United States, and the Sun-Times News Group serves more than 200 communities across the Chicago area. YourSeason leverages existing content and supports new ways of interacting with the news media for younger audiences.
To see the application in action, visit:
Sun-Times YourSeason Facebook Application
To learn more about the project, visit:
Pathfinder's YourSeason Facebook Application case study
Headquartered in Chicago, Pathfinder specializes in integrating user experience design with agile development to develop software that is simple to use. This approach helps Pathfinder's clients to improve usability and accelerate development of software applications while controlling costs and mitigating risk. For more information contact Eleanor Taylor at 312-372-1058, email to etaylor@pathf.com, or visit http://www.pathf.com.
###