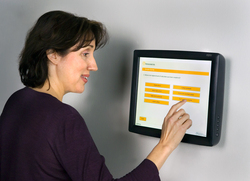 San Leandro, CA (Vocus) July 2, 2010
Opinionmeter (http://www.opinionmeter.com) is a leading provider of technologically advanced health care satisfaction survey tools for gathering and measuring patient satisfaction at the point-of-care. The company offers a number of innovative, interactive devices that allow its clients to capture real-time patient satisfaction feedback immediately following service administration. This immediate feedback enhances a healthcare worker's productivity with real-time examples of positive or ineffective patient interactions.
With more than 40 years of experience in the market research industry, Opinionmeter has worked with countless companies worldwide in addition to the healthcare sector, including retail, financial services, entertainment, leisure, transportation, education, conferences & trade shows, government and many more. One of Opinionmeter's core competencies is developing effective patient satisfaction healthcare surveys in conjunction with medical facilities around the world to improve patient service recovery and healthcare worker productivity.
According to John Maio, Manager of Diagnostic Imaging at Kaiser Permanente, Oakland Medical Center, "The Radiology Department is the first department at the Oakland Medical Center to use the Opinionmeter. Radiology uses the Opinionmeter to survey staff and members about satisfaction and customer service. The Opinionmeter is a positive tool to help reinforce positive behavior and motivate change… The Opinionmeter helps us set and achieve our customer service goals. I'm wild about it."
The company's real-time patient surveys allow healthcare facilities to collect point-of-care feedback quickly and efficiently. Capturing real-time patient satisfaction survey alerts enable instant customer service recovery - providing immediate improvement in the patient experience. With patient feedback becoming a clear priority at healthcare organizations around the country, patient surveys are rapidly evolving into a standard component of any hospital stay, doctor's office or clinic visit.
Deployment of the patient satisfaction survey is through a variety of handheld portable devices, such as personal digital assistants (PDAs), mobile tablet surveys and mobile phones. Additionally, in an outpatient clinic or doctor's office setting, the health care satisfaction survey, loaded on a freestanding unattended touch screen kiosk, may be the most appropriate method for self-administered patient entry. More infrequently, online healthcare surveys are sent to the patient's email address for response at their earliest convenience. However, Opinionmeter remains steadfast in its philosophy that capturing the primary response data at the point-of-care provides the most unbiased insight into a patient's subjective attitudes, evaluations and reactions immediately following a specific point-of-care event.
Opinionmeter's resource library of automated reporting tools empowers hospital staff with the necessary information to have a positive impact on patient satisfaction outcomes and concurrently improve healthcare worker productivity. Continuous feedback provides detailed trend analysis, along with low-score alert coverage, to monitor patient satisfaction levels and staff productivity gains over time.
Contact Opinionmeter by visiting http://www.opinionmeter.com today to learn more about their approach to real-time patient feedback, and the positive impact it has on healthcare worker productivity.
More information, including an online web-demo and Guided Product Tour, please visit: http://www.opinionmeter.com
Media Contact:
Morgan Strickland
Opinionmeter International
510-352-4943, x101
###