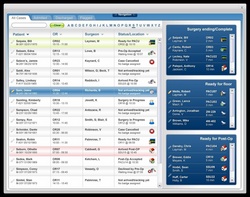 Amelior ORTracker leads the market with its ability to integrate patient data and staff communications from multiple OR information systems with department-specific workflow intelligence
MISSION VIEJO, Calif. (PRWEB) October 3, 2007
The automatic tracking software orchestrates patient care throughout the perioperative department by serving as a centralized communication portal integrating data from real-time locating systems, the surgery scheduling system, and department communication systems such as nurse call and wireless telephony. Caregivers are continuously and automatically updated on the status of their patients based on the communications between these systems and the OR-specific workflow intelligence within Amelior ORTracker 2.0. System-required and configurable patient care milestones work in conjunction with the OR business rules to generate automatic data entry and the anticipation of next actions.
Caregivers can view their cases by OR suite together with key workflow information such as case times, staff assignments, patient status, roadblocks to care progression and safety alerts. Staff can be continuously updated with relevant watch lists of patients for their unit as patients reach key milestones such as surgery ending, ready for floor, ready for post-op. A touch screen status view is available within the OR suite for staff to view information specific to their cases and to mark milestones and checklist items. An integrated asset tracking module provides extensive search options for locating clinical assets in list and department-specific map views. An expanded reporting module provides over 40 standard reports for analyzing patient throughput based on the movement and milestone data collected.
Patient, staff and asset location data are captured by integrating with a real-time locating system. Like all Amelior automatic tracking systems, Amelior ORTracker 2.0 is compatible with all major locating technologies including ultrasound, infrared and Radio Frequency-based systems.
"Amelior ORTracker leads the market with its ability to integrate patient data and staff communications from multiple OR information systems with department-specific workflow intelligence," said Tony Marsico, CEO of PCTS. "The result is a powerful department management system which helps caregivers to anticipate and manage their workflow more efficiently with minimal manual data entry."
PCTS will be demonstrating the Amelior ORTracker 2.0 system at the Managing Today's OR Suite conference in San Diego, California on October 3-4 and with a featured presentation at the AORN Informatics in Action conference in Denver, Colorado on October 19.
About Patient Care Technology Systems
Patient Care Technology Systems, a subsidiary of Consulier Engineering, Inc. (NASDAQ:CSLR) supports health care providers with intelligent workflow automation solutions to improve patient flow and to reduce the risk of medical errors. The company's Amelior(TM) software suite includes Amelior ED(TM), a comprehensive emergency department information system, and automatic patient and asset tracking software for the emergency department, perioperative suite, and enterprise-wide needs. Amelior automatic tracking software is compatible with all leading locating hardware including ultrasound, infrared, RFID, ultra-wideband, and Wi-Fi. PCTS customers have been recognized nationally for improvements in efficiency and clinical excellence. PCTS was recognized with the prestigious Blue Diamond Award for Best IT Innovation in 2007. For more information, visit http://www.pcts.com.
This press release contains forward-looking statements within the meaning of federal securities laws. PCTS and CSLR caution you that any statements contained in this press release which are not strictly historical statements constitute forward-looking statements. Such forward-looking statements include, but are not limited to, those related to PCTS's and CSLR's expectations regarding continued business growth. These statements are neither promises nor guarantees, and involve risks and uncertainties that could cause actual results to differ materially from such forward-looking statements, (copies of which may be obtained at the SEC's website at: http://www.sec.gov) -- could impact the forward-looking statements contained in this press release. Readers should not place undue reliance on any such forward-looking statements, which speak only as of the date they are made. PCTS and CSLR disclaim any obligation to publicly update or revise any such statements to reflect any change in PCTS and CSLR's expectations, or in events, conditions or circumstances on which any such statements may be based, or that may affect the likelihood that actual results will differ from those set forth in the forward-looking statements.