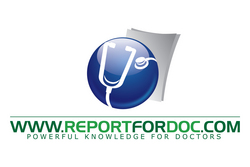 Our structured survey tool may be the solution for many practices and hospitals who want valuable information with a hassle-free and cost effective approach. Annual savings could be over $6,000 per year per doctor when compared to traditional paper surveys
Denver, CO (PRWEB) July 7, 2009
Report For Doc has expanded the offering of its patient satisfaction survey solution beyond the initial audience of physicians and dentists in most specialties. Now, other doctors such as chiropractors, podiatrists, veterinarians and medical residents can also use the service.
Here is the how Report For Doc works:
1) Doctors sign up online; plans are $65 or $90 per month per doctor. The company then ships the doctor a box with survey invitation cards every quarter; each card has the size of a standard business card and contains a unique code.
2) The medical office staff hands out one card to each patient after the visit.
3) The patient then visits the website, enters the unique code on the card and anonymously responds to the standard online questionnaire in minutes.
4) Survey results are shared solely with the doctor; i.e. results are confidential and not shared with the public. Typical patients' response rates are 5% to 30%; e.g. an average of 10 patients per day means 30 to 180 responses per quarter.
"Our structured survey tool may be the solution for many practices and hospitals who want valuable information with a hassle-free and cost effective approach. Annual savings could be over $6,000 per year per doctor when compared to traditional paper surveys", says Sergio Fuccio, managing director of the company. "We are pleased to extend our service to other health professionals committed to excellence in patient care", he continues.
The company says doctors and medical managers use the service primarily as a management tool to improve a practice or hospital. And as the healthcare industry becomes more competitive, some doctors, including medical residents, are also using the service as a career development tool to better prepare for the future.
Visit http://www.reportfordoc.com for additional information.
About us: Report For Doc provides an innovative patient satisfaction survey solution to doctors and other healthcare professionals in the USA. Our clients are medical managers, physicians, dentists and other doctors in private practices, hospitals, group medicine and academia. They all share a commitment to excellence in patient care.
###