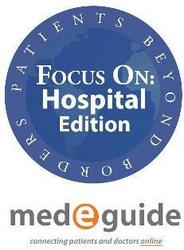 Swiss army knife--one simple tool that does many things.
Bangkok, Thailand (PRWEB) October 23, 2009
Healthy Travel Media, publisher of the Patients Beyond Borders series, and Medeguide, an online international doctor directory, announced today the joint launch of the Patients Beyond Borders FOCUS ON: series.
Produced by Patients Beyond Borders editors and marketed by Medeguide, FOCUS ON: is an easy-to-distribute digital publication with search capability, enabling hospitals to showcase their centers of excellence, signature services, facilities, doctors, leading-edge technology, and international patient resources.
FOCUS ON: also provides a direct connection to Medeguide's doctor and treatment-package search engine, allowing users to access hospitals directly to request appointments and information.
The Patients Beyond Borders team of independent editors will work closely with selected hospitals to highlight information important to medical travelers, including the hospitals' vital information and statistics, images of the facilities, patients' stories, noted specialties, international awards, and accreditation, along with destination-specific travel tips.
"FOCUS ON: gives medical travelers unique, concise insight into what makes a particular hospital special," says Josef Woodman, author and creator of the popular Patients Beyond Borders series. "Medical travelers typically use multiple sources of data before selecting a particular hospital or doctor, and FOCUS ON: consolidates all that information in one easy-to-read document that can be shared, emailed, and printed."
Medeguide founder, Ruben Toral, describes FOCUS ON: as a "Swiss army knife--one simple tool that does many things." A former international hospital marketing director, Mr. Toral continues, "Consumers want relevant information in a format that can be shared easily with family and friends." Through direct connections to Medeguide's online doctor directory, FOCUS ON: users can review and share profiles of doctors and packages with the click of a mouse.
FOCUS ON: is the newest offering in a suite of products and services developed by Patients Beyond Borders and Medeguide to support consumers and connect patients with leading international hospitals. The two companies currently collaborate in a content-sharing partnership on Medeguide.com. FOCUS ON: furthers the collaboration by integrating content around specific hospitals.
Messrs. Woodman and Toral continue to look at new opportunities in the medical travel industry through an approach they describe as "destinations to doctors." By coordinating and combining information on destinations, hospitals, treatment packages, and doctors, they believe patients will have better tools to make informed healthcare decisions.
For more information, please download the FOCUS ON: brochure at http://syndacast.com/go/FocusOnBrochure.
About Patients Beyond Borders
Patients Beyond Borders (http://www.patientsbeyondborders.com) is the bestselling consumer guide to medical tourism. Its imprint, Healthy Travel Media, based in Chapel Hill, NC, publishes books, eBooks, and Web-based consumer reference information on medical and wellness travel.
About Medeguide
Medeguide (http://www.medeguide.com) is an online doctor directory featuring medical and surgical specialists from leading medical centers around the world. Using Medeguide, consumers can search, find, and connect with doctors and hospitals directly for appointments and information.
# # #