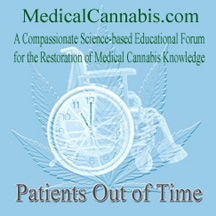 We completely support the efforts of Patients Out of Time and want to help bring as much awareness as possible to the benefits of cannabis as a medical treatment
San Francisco, CA (PRWEB) October 15, 2012
The newly discovered endogenous cannabinoid system (ECS), present in all humans, has shown to be an essential part of physiological processes, affecting sleep, pain, appetite and stress. Patients Out of Time presents this continuing educational seminar for nurses discussing the importance of the ECS on Tuesday, October 23, 2012 at the David Bower Center in Berkeley, CA. The leading medical cannabis resource UnitedPatientsGroup.com is thrilled to provide financial support for this educational opportunity.
During the seminar, The Endocannabinoid System and Cannabis: What Nurses Need to Know, licensed medical and legal professionals will discuss scientific reasons why cannabis is a safe and effective medication.
"To understand that this system of life exists within your body and brain is to understand the remarkable and various therapeutic applications of cannabis," said seminar presenter Mary Lynn Mathre, RN, MSN, CARN.
Mathre, who is a registered nurse, medical cannabis consultant, addictions nurse consultant, co-founder of Patients Out of Time and President of the American Cannabis Nurses Association, will present an overview of cannabis, the various cannabinoids present in the human body, pharmaceutical cannabinoid products and the nurse's role in patient care and education regarding the safe use of [medical marijuana.
Christine Wagner, JD, a licensed attorney in the State of California practicing in the area of cannabis law, will also present, on topics including state and federal laws regarding cannabis as medicine.
United Patients Group (UnitedPatientsGroup.com) will host two break-out sessions during the seminar with coffee, tea and desserts.
United Patients Group, a leading resource for patients seeking information about medical marijuana, is also sponsoring a nurse by providing the necessary resources for their attendance. "We completely support the efforts of Patients Out of Time and want to help bring as much awareness as possible to the benefits of cannabis as a medical treatment," said John Malanca, founder and owner of United Patients Group.
Patients Out of Time is provider approved by the California Board of Registered Nursing, Provider #16044, for 6 contact hours.
For more information about the Patients Out of Time seminar, visit http://www.unitedpatientsgroup.com/Patients-Out-Of-Time-Nurses-Convention or to register, visit http://www.medicalcannabis.com/conference/nursece2012.
For more information about United Patients Group, call (415) 524-8099 or visit UnitedPatientsGroup.com. The best way to stay informed about developments is to "like" United Patients Group on Facebook and "follow" Untied Patients Group on Twitter.
About UnitedPatientsGroup.com
UnitedPatientsGroup.com is a discreet, safe, and professional online medical cannabis information resource for prospective and current patients, caregivers, and medicinal cannabis industry professionals.
While most online medical marijuana sites cater to patients already familiar with medical marijuana, the UnitedPatientsGroup.com website is a comprehensive and easy-to-use information source for people of all ages and experience levels, from novice medical cannabis users to experienced industry professionals. The site's News, Resource, and Blog pages introduce new patients to the ins and outs of medical marijuana healthcare, while helping experienced providers stay abreast of the latest developments in CBD therapies.
A free Five Star-rated UPG medical marijuana app is now available for free on the iTunes app store for iPhone 3GS, iPhone 4, iPhone 4S, iPhone 5, iPod touch (3rd generation), iPod touch (4th generation) and any iPad.