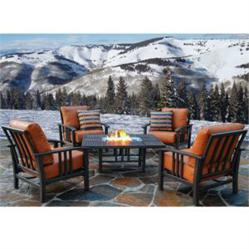 Homecrest manufactures quality luxury patio furniture that is made in the USA!
Chicago, IL (PRWEB) February 16, 2012
FurnitureForPatio.com is proud to add another patio furniture manufacturer whose products are made in the USA, to its growing product collection. Homecrest furniture has been making quality affordable luxury outdoor furniture for over 60 years in Minnesota. Homecrest offers an array of innovative patio furniture that can be customized with frame finishes and fabric selections. FurnitureForPatio.com is excited to have the complete Homecrest furniture collection available for its customers for the 2012 season.
The Homecrest patio furniture collection allows you to create a backyard of your dreams with a variety of different collections for every occasion. The collections are offered in different styles that includes deep seating furniture, sling furniture, cushion furniture, strap, mesh, and cafe furniture. Homecrest has introduced some innovative furniture that includes some revolutionary products that are great for both home and commercial applications.
The Bungalow patio furniture collection is an exciting new addition to the Homecrest line for the 2012 season. The Homecrest Bungalow collection features fully upholstered furniture with a removable slipcover over a custom designed aluminum frame. The slipcovers are available in a variety of outdoor grade fabrics that allow you to bring indoor styling to the outdoors. The Bungalow patio furniture includes a dining chair, chat chair, swivel rocker chat chair, loveseat, sofa, and ottoman. The furniture provides an organic styling that will enhance the comfort of any patio.
The Legendary Deep Seating Collection features a durable aluminum frame and plush cushions that will add elegance to any backyard. The Homecrest Legendary collection is influenced by old world craftsmanship with twisted steel accents and decorative hammered arms. The Legendary Deep Seating furniture is designed to compliment the Legendary sling dining furniture, so that you can create a matching outdoor lounge area. The Legendary collection also features a variety of outdoor tables that are available with Faux Leather table tops. The faux leather tops are available in Mink and Tobacco colors, and offer the look of leather with the durability to withstand outdoor weather elements.
The Homecrest Airo2 collection is one of the most innovative deep seating groups available in the outdoor furniture market. The Homecrest Airo2 outdoor furniture features deep seating style and comfort with a quick drying sling. While the furniture gives the impression of deep seating cushions, it doesn't have any cushions at all. The Airo2 furniture provides the feeling of sitting on air and will hours of comfort for any user. The frame is constructed from extruded aluminum with cleans lines and modern styling.
Homecrest also has introduced a variety of fire pit tables that will add ambiance to any outdoor patio. The fire pits are available with a variety of different custom options, so that you can create a style that matches your homes décor. The fire pit table tops are available with a Faux Granite, Sorrento, Tuscan, or Sandstone finish. The universal fire pit tables feature a Fire Glass burner in the center and a base that hides the propane tank. Homecrest also has a collection of gel burning Venturi Flame tables that produce a dancing flame effect.
FurnitureForPatio.com is a great place to shop for decorating the outside of your home and provides customers with quality outdoor furniture that will last a lifetime. Homecrest furniture is a great addition to the already expansive selection of products available at FurnitureForPatio.com. All Homecrest furniture is proudly made in the USA and takes approximately 3-5 weeks for delivery. Visit FurnitureForPatio.com for a great collection of patio sets, patio chairs, tables, sofas, lounges, and decorations for you home.
###