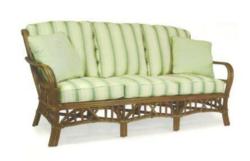 San Francisco, CA (Vocus/PRWEB) April 01, 2011
This spring, San Francisco interior design company Great Finds offers clients the opportunity to stretch their tax return and splurge on designer patio furniture at prices industry-insiders pay. Clients receive a custom tour of the trade-only San Francisco Design Center (SFDC), as well as two other warehouses full of luxury outdoor furniture. Great Finds' clients are given access to designer furniture at 30 to 80 percent off retail price, so they can revamp their garden and polish up their patio with savings and style.
The San Francisco Design Center is home to over 100 showrooms featuring extensive collections of fine furniture, art, accessories, antiques, lighting and fabrics. The SFDC district is an indispensable resource for designers and architects keeping abreast with industry trends and changes.
Some stunning outdoor furniture items currently on display at SFDC include the Twig Iron Chaise by Gregorius Pineo, the Tremonto Bench by C.J. Welch, and a large assortment of outdoor dining tables from Lane Venture. Some other names in outdoor living include Richard Schultz Design, Tropitone, Henry Hall design, Glouster Furniture, Walters Wicker, Luxe Cane, Rader Designs, Barlow Tyrie and more, some of which are offered at or below wholesale cost. The public doesn't usually have access to these showrooms, but shopping with Great Finds enables you to take advantage of exclusive, secret deals on San Francisco discount furniture.
Great Finds also shares professional expertise with clients as part of the design shopping service. San Francisco interior designer Chris Reddy tailors each client's shopping experience to reflect his or her personal preference and budget.
To benefit from interior design expertise and access to an exclusive selection of designer furniture, schedule a tour with Great Finds at (415) 658-9304 or visit http://www.greatfinds-bayarea.com.
About Great Finds
Great Finds is an interior design company that specializes in a range of design services in San Francisco. Great Finds enables the public to purchase internationally-acclaimed brands of designer furniture at exclusive trade-only discounts and offers custom-tailored shopping experiences at the many buildings and showrooms of the San Francisco Design Center (SFDC) district. Great Finds serves all communities of the San Francisco Bay Area. They also ship out of state.
###