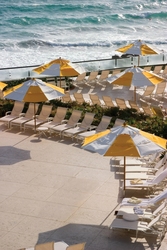 Summer heat can be downright brutal in many parts of the country and force many families inside their homes rather than enjoying time together outdoors. All of the products we now currently offer aim to make summer more enjoyable, and let homeowners reclaim their backyard
Houston, TX (PRWEB) April 24, 2009
Cool-Off, LLC, a manufacturer and online retailer of residential, commercial and industrial misting products, has officially launched 2 new specialty products in addition to its current offerings. The launching of the new products is designed to fill a void in the specialty outdoor living market that is currently underserved. Among the new products being added will be resort quality patio umbrellas and luxury outdoor cabanas.
Given the current condition of the economy, many people tend to think that consumer spending on luxury products would somehow diminish, however the high end products are proving to be quite resilient... "Summer heat can be downright brutal in many parts of the country and force many families inside their homes rather than enjoying time together outdoors. All of the products we now currently offer aim to make summer more enjoyable, and let homeowners reclaim their backyard," said David Shank Jr. - VP/Marketing.
However, homeowners aren't the only ones upgrading their outdoor patios these days. Many restaurants and resorts are effectively luring customers onto their patios by providing a friendly upscale ambience. By adding luxury outdoor cabanas and high end patio umbrellas, these businesses are seeing an increase in their bottom line during the summer months. Mr. Shank states "It is incredibly important these days to get the most out of your patio during the summer months in the restaurant business, given the tendency for many families to eat at home during a recession. Many of our current clients in the restaurant and leisure industries have purchased misting systems or misting fans from us in years past, and frequently call us back asking for new concepts. With the addition of these new outdoor products, we feel that we can offer current and new customers an assortment of outdoor products that will not disappoint."
With more than 45,000 patio umbrellas being sold to both homes and business each year, Cool-Off.com aims to position itself among the leading online retailers of market umbrellas, commercial umbrellas, offset umbrellas, side post umbrellas, wall mount umbrellas, and side mount umbrellas. All of "Simply-Chic" patio umbrellas on the Cool-Off.com website can be completely customizable, allowing the end user to create whatever color canopy, pole finish, and base they choose. Naturally, all umbrella products have high end fabrics, extended warranties, and extraordinary new mounting options.
Another trend Cool-Off is trying to capitalize on is the bustling business of luxury outdoor cabanas, not only for hotels and resorts, but also for homeowner's backyards. All of these outdoor cabanas are built from scratch, and give users the option to choose from over 55 colors and valences. Some of these cabanas even offer such posh features such as divider curtains; ceiling fans, and even built in flat screen television mounts.
To view the complete line of products from Cool-Off, LLC visit http://www.cool-off.com
About Cool-Off.com:
Cool-Off, LLC is a rapidly growing outdoor living retailer and wholesaler. Based in Houston, TX, Cool-Off manufacturers niche retail products including it's industry leading misting systems and misting fans. Cool-Off sells their products over the phone and through their state of the art website which can be found at http://www.cool-off.com
Contact Info:
David Shank, VP/Marketing
Cool-Off LLC
800.504.6478 (MIST)
http://www.cool-off.com
###