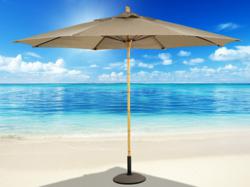 A beach umbrella needs to be flexible and strong
Chicago, IL (PRWEB) June 26, 2012
Consumers now have many more options to bring their shade with them to America's beaches. Beach umbrellas can make beach time more enjoyable by protecting occupants from harmful UV rays, wind, rain and blowing sand which might spoil a day at the shore. PatioFurnitureBuy.com has just debuted new beach umbrella models for beach-goers featuring aluminum and fiberglass construction.
Beach umbrellas differ from patio umbrellas in the way they are anchored. A beach umbrella has a tapered pole which is driven directly into the sand whereas a patio umbrella uses a weighted base for stability. Like outdoor umbrellas for patios or decks, beach umbrellas need to be sturdy and be able to withstand winds, blowing sand and a sudden storm if need be. A beach umbrella, therefore, needs to be flexible as well as strong. But unlike patio umbrellas, beach umbrellas need to be easily transported and need to be opened and closed frequently.
Beach umbrellas feature many of the same styles and functions that patio umbrellas have and
offer an extensive range of colors and canopy shapes. Some models come with their own carrying case to make transporting them from car or cabana to beach a breeze.
PatioFurnitureBuy.com's beach umbrella sale is going on now with very attractive discounts on the finest quality beach umbrellas available for consumer or commercial use. When it comes to portable shade for the seashore, strength, flexibility, portability and the best prices on the web make a winning combination.
About PatioFurnitureBuy.com
PatioFurnitureBuy.com is an online retailer of top quality patio furniture operated by NetRetailers, Inc. which offers high quality furniture products offered at great prices. PatioFurnitureBuy.com specializes in custom made products, offering hundreds of finish colors, fabric designs, cushion trim options, selected table tops and much more to customize outdoor furniture to its customers' personal taste and style. PatioFurnitureBuy.com is a Better Business Bureau accredited business.