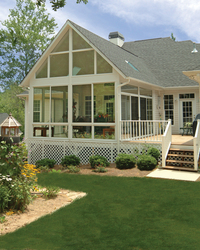 Macedonia, Ohio (Vocus) July 30, 2008
When selecting a sunroom company or contractor to build your new sunroom, here are ten suggestions that can help you navigate through the maze of companies to find one that you can trust.
1. State Contractor's License - This is the first thing you should ask to see since an understanding of local and state building codes and permit processes, and a background check is usually required before a company gets one. Make sure the sunroom company or contractor is bonded and has worker's compensation insurance to protect you from potential liabilities or damage to your home.
2. Customer References - Deal with a sunroom company or contractor with a track record. Ten years is long enough to gauge staying power. Check with former customers to get a sense of how satisfied you'll be with your project - not just the final product, but the entire experience. If possible, arrange a visit to see if the sunroom is one you'd be proud to own. Pay attention to small things: Do they return calls promptly? This may indicate how easy or difficult it will be to communicate if a problem arises.
3. Look at Association Memberships - Belonging to groups such as the National Sunroom Association or Better Business Bureau says a lot about whether the sunroom company or contractor you choose cares about its customers or is "fly by night." The National Sunroom Association (NSA) is a good resource for sunroom companies that have lots of experience as well as those still perfecting their craft. The NSA's mission is to help all sunroom companies reach and maintain the industry's highest standards.
4. Get a Written Contract - You can shake hands if you want, but that's not going to help much if they don't keep their end up. Make sure the contract spells out when, where, what, how much and by whom. Sunroom companies and contractors may subcontract specialized tasks such as electrical, plumbing or concrete work and you need to know beforehand what is included in your quote and who is responsible.
5. Sunroom Choice - Does the sunroom company or contractor offer the sunroom you really want? Can they build an insulated sunroom you can use year-round… a solarium…or an English-style conservatory. Your sunroom is going to be a permanent part of your home so find out if they can provide the sunroom you want that doesn't look like an afterthought. Whether it's a traditional three-season room or an elaborate conservatory with a glass ceiling, make sure they show you photos of actual jobs that demonstrate they can provide the sunroom of your dreams.
6. Custom Design and Build Capability - Select a sunroom company that can design and manufacture your sunroom to blend with your home. To meet required dimensions, many sunroom companies and contractors use standard sized-doors, windows and opaque filler materials and knee-walls that obstruct an occupants' view of the outdoors and detracts from a home. Look for a company that can provide floor-to-ceiling and wall-to-wall glass for a high-quality custom sunroom look. The point of a sunroom is to provide you an outdoor experience but still maintain indoor comfort. This experience is obviously diminished if you can't see the outdoors.
7. Engineering Support - If you're thinking of a sunroom design that is unusual, or if the existing layout of your home makes adding a sunroom tricky, the company should have an engineer on its staff that understands sunroom technology. A professional engineer can create a design to submit to the local authority that will be certified to meet required codes.
8. Installation time - The last thing you need are workers tracking through your home for weeks on end. Get a realistic estimate on the time it will take and how soon your new sunroom will be ready to move into. Most established sunroom companies and sunroom contractors can construct a customized sunroom for you in two to five days depending on the size and complexity of the room after permitting and foundation preparations are complete.
9. ENERGY STAR® Windows and Doors - With energy prices at record highs, this is one option you can't afford to pass on if you plan to use your sunroom year-round. Find a sunroom company or contractor that offers insulated windows and doors, roof panels and flooring that are ENERGY STAR® rated for better comfort and lower energy costs. The extra investment should pay for itself after a few seasons of use.
10. Warranty - Since your sunroom will be comprised mostly of glass, pay particular attention to how glass damage is covered, especially if you have insulated glass with an inert gas barrier. If the gas escapes, the insulation is no longer effective. Ultimately, warranties are a good thing, but if the sunroom company or sunroom contractor you select is not solid and goes out of business, the warranty is worthless. For best results, refer back to 1, 2 and 3.
Patio Enclosures, Inc. is the largest manufacturer and installer of sunrooms in North America and is one of the founding members of the National Sunroom Association. For more than 40 years, Patio Enclosures, Inc. has been at the forefront of technology developments in the sunroom industry and is the only sunroom company today offering ENERGY STAR® rated roof panels, doors and windows and floor panels to provide ultimate comfort and energy efficiency. For more information about Patio Enclosures visit its website or call 1-800-480-1966.
Patio Enclosures, Inc. has been recognized for several years by Qualified Remodeler Magazine as the Top Performing Sunroom Company in North America. Patio Enclosures, Inc. operates 29 branch locations, 12 franchises and ten dealers across the United States and Canada and has more than 750 employee-owners. The company also operates a casual living furniture store in Macedonia, Ohio and Pittsburgh, Pennsylvania.
Links:
patioenc.com/
patioenc.com/Products/Sunrooms.aspx
nationalsunroom.org/
patioenc.com/energystar.aspx
patioenc.com/Products/FurnitureSuperstores.aspx
###