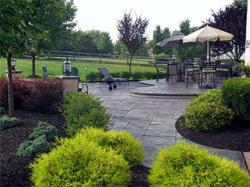 Calimesa, CA (Vocus/PRWEB) March 04, 2011
Just around the corner, spring is a great time for consumers to think about installing a new concrete patio, or making-over an existing surface. ConcreteNetwork.com, the leading industry site for concrete patio information, offers an extensive online gallery of patio pictures. Perfect for generating design ideas, consumers can browse through over 100 patio photos featuring all forms of innovative decorative concrete applications.
Perfect for outdoor entertaining, concrete patios offer consumers a multi-use area, great for parties, relaxation and cooking, providing the perfect extension of the home. With today's innovations in decorative concrete, patio surfaces no longer have to be one monotonous gray color.
As seen in the concrete patios photo gallery on ConcreteNetwork.com, consumers are given a glimpse of all that decorative concrete has to offer. From colored and stained patios, to stamped and scored accents, consumers are sure to find the perfect fit for their upcoming project.
Visit The Concrete Network photo gallery for unlimited access to patio pictures and much more.
Established in 1999, ConcreteNetwork.com educates consumers, builders, and contractors on popular decorative techniques and applications. These include stamped concrete, stained concrete, concrete countertops, polished concrete, and much more. Over 12 million people visited The Concrete Network in 2010 to research, get ideas and to find a contractor.
The site excels at connecting buyers with local concrete contractors through its Find a Contractor service. The service provides visitors with a list of decorative concrete contractors throughout the U.S. and Canada, and is fully searchable by more than 20 types of decorative concrete work in over 200 regional areas throughout North America.
Article photos courtesy of Architectural Concrete Design in Levittown, PA. Attached photo courtesy of Becker Architectural Concrete in Minneapolis, MN.
###