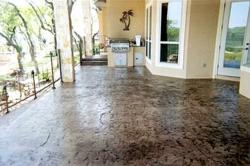 Calimesa, CA (Vocus/PRWEB) April 07, 2011
Gear up for spring and explore the idea of a new concrete patio. ConcreteNetwork.com is offering consumers new patio information for upcoming spring projects. The site features hundreds of patio pictures and patio design related articles to help consumers design the patio of their dreams.
More and more, homeowners are turning their unused backyard spaces into outdoor living areas. The growing trend across the country is to enjoy quality time with friends and family in the comfort of one's home, saving both money and travel time.
The best source for design ideas for new patio installations and makeovers is to see real-life projects. Exploring patio pictures can provide both context and visual aide of patio shapes, configurations, decorative concrete applications and more, where consumers can pick and choose elements to suit their needs and desires.
Supplemental articles covering A to Z topics on patios, including design ideas, decorative applications, placement tips, sizes and much more complete the package. Consumers are given everything they need to hire a contractor and create a one-of-a-kind, custom patio space for backyard entertaining and relaxation.
For full access to these free patio resources, visit ConcreteNetwork.com.
Established in 1999, ConcreteNetwork.com educates consumers, builders, and contractors on popular decorative techniques and applications. These include stamped concrete, stained concrete, concrete countertops, polished concrete, and much more. Over 12 million people visited The Concrete Network in 2010 to research, get ideas and to find a contractor.
The site excels at connecting buyers with local concrete contractors through its Find a Contractor service. The service provides visitors with a list of decorative concrete contractors throughout the U.S. and Canada, and is fully searchable by more than 20 types of decorative concrete work in over 200 regional areas throughout North America.
Article photo courtesy of Concreations in Buda, TX. Attached photo courtesy of Ortega's Concrete in Plainfield, IL.
# # #