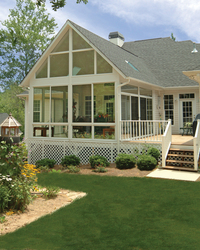 Macedonia, Ohio (Vocus) June 26, 2008
When it comes to adding living space, homeowners are doing their homework, and sunrooms are making the grade. Sunrooms , solariums and conservatories are rooms constructed primarily of glass that can create a light-filled home in any climate. These sun-drenched rooms come in many shapes and styles from simple screened enclosures for use during nice weather to insulated sunrooms for year-round use. Sunrooms are an excellent way to expand a home because they not only add to your home's square footage, but also because of the value they offer as a place for relaxation, entertainment or recreation.
If you're thinking about adding a sunroom, take some lessons from the experts at Patio Enclosures, Inc., North America's largest custom manufacturer and installer of sunrooms.
Lesson One: Select the type of sunroom that best fits your lifestyle. Screen enclosures let you enjoy the benefits of nature at the most affordable price. In warmer climates, use them all year for protection from insects, rain and harsh sun. In cooler climates, screen enclosures are ideal for spring through late summer.
Seasonal sunrooms are constructed with single-pane glass windows and screens, ideally with full-length floor-to-ceiling views of the outdoors. While not designed to be heated or air conditioned, natural ventilation and window blinds or shades add comfort and extend seasonal use. In northern climates, seasonal rooms can generally be used from early spring to late fall. In the South, a seasonal room can often be used all year.
Year-round enclosures use thermally insulated glass, thermal barriers in the frames and can be heated and air conditioned for year-round use in accordance with local building codes. Strongly consider ENERGY STAR ® rated glass doors and windows, and ENERGY STAR® components such as floors and roof panels to ensure the highest energy-efficiency and maximum comfort.
Solariums are a unique option for homeowners seeking a panoramic view of their surroundings. These insulated glass enclosures give the feel of being outdoors and are constructed with a curved or straight eave roofline. For an unmatched feeling of elegance, the English-style Conservatory is once again becoming a popular choice among homeowners. Available with either a glass or translucent roof, these sunrooms have a distinctive Old English styling that blends with a wide range of architecture.
Lesson Two: Consider the room's use. If you simply want an outdoor retreat during nice weather, a screen porch or seasonal sunroom might be right for you. If you are looking for an expanded family room, kitchen, exercise room or home office to use year round, select a solarium, conservatory or insulated sunroom. Today's higher quality sunrooms come with in-wall wiring as an option, so you can use them for almost any purpose.
Lesson Three: Consider the sunroom's view. Full-length floor-to-ceiling and wall-to-wall glass gives the best view of the outdoors. A true custom sunroom builder will be able to size windows and doors without using unsightly filler to meet the homeowners specifications. Filler obstructs occupant's views and creates an "add-on" look that can detract from your home.
Think about the room's sun exposure. Directly exposed sunrooms will probably need blinds or shades, and perhaps low-e glass with special tints to prevent overheating and to filter harmful UV rays from the sun. Sunrooms facing wooded lots can often be left completely natural.
According to experts at Patio Enclosures, Inc. who custom design, manufacture and install more sunrooms than any other company, sunrooms not only increase living space, but also change the ambience of the entire home. One homeowner described her solarium as a panoramic picture everyday.
Lesson Four: Fit the sunroom into your current home structure. There's nothing worse than a room addition that looks like an add-on. Have the company design a room that blends with your home's character and its natural roofline. This will require a custom manufacturer such as Patio Enclosures, Inc.
Lesson Five: Aluminum vs. Vinyl. Both are practical, economical, energy-efficient, and made to last. Base your decision on what looks best for your home.
Patio Enclosures, Inc. designs and installs sunrooms for every type of house, blending custom looks with existing architecture. The company's products include screen enclosures, seasonal and year round patio, porch and deck enclosures, all-glass solariums and conservatories. Sunrooms can be planned when building your home, can be added, or built on an existing deck or patio.
For a free in-home consultation, call 1-800-480-1966 or visit http://www.patioenc.com for more information.
Links
http://www.patioenc.com/Products/Sunrooms.aspx
http://www.patioenc.com/energystar.aspx
http://www.patioenc.com/
# # #