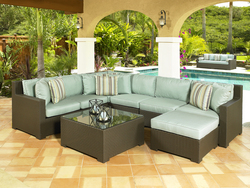 Outdoor living rooms are perhaps the hottest addition to modern American homes
Encinitas, CA (PRWEB) April 1, 2010
Patioproductions.com, a leading online retailer of outdoor furniture, recently announced a move to a new location. Patio Productions was previously located in Encinitas, California, as of early 2007. The new location is situated in Sorrento Valley, about fifteen miles north of San Diego. Ben Harvey, founder and CEO of Patio Productions, believes that the move is a step in a great new direction.
"Along with the new office, we are inheriting a huge new warehouse," says Harvey. "In terms of cubic volume, it's probably about three and a half times the size of our old warehouse, which is exactly what we need."
Patio Productions, a subsidiary company of the LTD Online Stores family, has been enjoying substantial growth in the past six months, despite a less-than-stellar economic climate that has been unkind to most retailers of luxury goods.
Patioproductions.com is a major retailer of a number of patio furnishings, ranging from daybeds and dining sets to outdoor sofa sets, coffee tables, umbrellas, and footstools. Most of their products are made with a synthetic wicker weave, which is supposedly more weather-resistant and durable than natural rattan wicker.
"That was our other big announcement, actually," continues Harvey. "Not only are we doing well enough to necessitate moving to a much larger warehouse, we're also hiring several new employees. And believe me, we're going to need all the help we can get to take care of our growing workload."
Among the new hires are two shipping and warehouse associates, a warehouse and shipping manager, an order processor, and a new sales associate. The new employees were pulled from a pool of over 200 applicants.
Patio furniture is not considered a popular niche for online retailers, but Harvey is confident that his store will be a "tremendous success."
"There's not a lot of competition, but what many small business owners don't realize is that the market is definitely there. It's not as prominent as, say, computer components. But outdoor furniture actually sells pretty well online."
Harvey predicts that sales are only going to increase over the coming months. "We're expanding our warehouse, expanding our workforce, expanding our catalog, and even improving our SEO campaigns and advertising. We've got everything we need to meet anyone's patio furniture needs. If the current trend continues, we've got lots of exciting things in the future of Patio Productions."
###