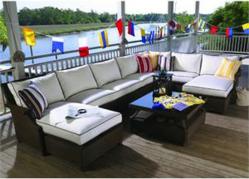 Quality - #1 Reason customers buy patio furniture Made in the USA!
Chicago, IL (PRWEB) April 30, 2012
In a trend report that was published in the July 2011 edition of Casual Living, American manufactured furniture and the consumer's growing awareness of it was analyzed in detail. According to the report, more and more manufacturers and retailers have found themselves fielding questions from the consumer asking where the product was made and specifically asking for the Made in the USA tag. Reasons for this can be attributed to tough economic times, the desire to keep jobs in America, and the fact that American made has always brought with it a superior quality and long lasting durability.
A year later, it would appear that buying American wasn't just a fad during a time when the economy was struggling. As America recovers in a post-recession age and overseas manufacturing costs increase, reports have detailed how American made furniture has become more competitive and manufacturers are offering a better product and better service that is worth the consumer's money. Not being a company to fall behind trends, Furniture For Patio has listened to both consumer reports and the consumers themselves and is proud to announce that their selection of Made in the USA patio furniture has expanded and it will continue to do so into the foreseeable future.
Over the past year alone, the company has added three American manufacturers to their online store; Lloyd Flanders, Telescope Casual, and Homecrest whose collections include wicker, aluminum, steel, and environmentally friendly plastic furniture for the consumer's outdoor living space. The addition of these three manufacturers comes not at random as FurnitureForPatio.com researches and tests the products they sell to make sure they will be fitting of the consumer's wants and needs.
With Telescope Casual furniture, the consumer will see a brand that has been offering versatility and luxury in their collections since 1903; building furniture that will last from their manufacturing plant located in New York. For a more subdued luxury blended with quality and classic design, Homecrest meets the demands for affordable and high-end patio furniture and for the past sixty years has developed 30 different collections for any outdoor environment. Both Telescope Casual and Homecrest furniture feature a variety of high-quality styles across their collections, offering a freedom of choice that goes hand in hand with their Made in the USA tag.
Another part of the reason that American made furniture is high in quality is because of craftsmanship and knowledge past down from generation to generation and the consumer will find that Lloyd Flanders embodies this process in its production of quality outdoor wicker furniture. For the past 100 years, this American manufacturer has been in business providing durable, natural looking wicker furniture and has been a leader in the wicker furniture industry for years.
These top of the line manufacturers join a staple of FurnitureForPatio.com's store which is (not surprisingly) another company sporting the Made in the USA branding. Poly-Wood Furniture was the first American manufacturer offered for sale at FurnitureForPatio.com and has been making waves with its innovative plastic lumber furniture. This high-performance furniture, which comes from recycled materials such as milk jugs, caters to another popular trend amongst consumers, the trend of "going green."
Offering up a wider variety of American made products was an easy decision for the company as their goal to provide a convenient shopping experience for customers goes hand in hand with shorter delivery times and a long lasting guarantee that American manufacturers can promise. Working with these manufacturers allows for FurnitureForPatio.com to not only be able to offer high-quality patio furniture, but high-quality customer service as well. Since most of the manufactured furniture for sale at FurnitureForPatio.com is made in the USA, the company is able to provide quicker and more informed responses to customer service issues as they are more easily able to contact the manufacturer directly. The end result, an educated shopping experience for patio furniture the consumer can count on.
To buy American made furniture means to buy high quality, competitively priced, and beautifully crafted products. To shop for American made furniture means to visit http://www.furnitureforpatio.com; your source for outdoor living and MADE in the USA brands.