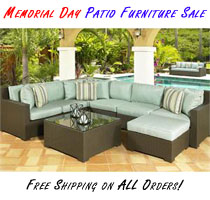 Save on every order with Free Shipping!
Chicago, IL (PRWEB) May 27, 2011
To celebrate the Memorial Day holiday, FurnitureForPatio.com is offering a one week sale on all patio furniture. The sale will be available from May 27 - June 3, 2011. During the sale, customers will be able to take advantage of free ground shipping on all orders. This sale provides customers a great opportunity to save on every order with free shipping. During checkout all orders will display free Memorial Day Sale shipping before any billing information is required. All products are available to take advantage of the free shipping, allowing customers to save over $300 on big purchases. This Memorial Day sale allows Furniture For Patio to recognize all of our US soldiers and provide all customers the opportunity to save money, while getting their home ready for summer.
This Memorial Day patio furniture will allow customers to save on all patio furniture sets. Customers can shop from a great collection of dining patio sets that are available in a variety of table shapes, styles, and materials. Most of the patio dining sets are offered with your choice of stationary or swivel rocker chairs. Fire pit patio sets are great for entertaining friends and family outside. Most fire pit sets feature club style patio chairs surrounding a table that can be used as fire pit or ice bucket to chill beverages. For more social entertaining, bar table sets are available that feature hi-top tables with patio bar stools or chairs.
FurnitureForPatio.com also carries a great selection of patio decorations to improve the exterior of your home. An easy way to improve the curb appeal of any home, is to replace the old mailbox with a new personalized aluminum mailbox. FurnitureForPatio.com carries mailboxes from great manufacturers like Whitehall and Architectural Mailboxes. Some other creative patio decorations included patio planters, outdoor clocks and thermometers, bird feeders, hose holders, dinner bells, and more. You can also replace your old patio cushions with new ones at FurnitureForPatio.com. The custom patio cushions are available in a variety of styles and over 50+ different decorative fabrics.
If you are really looking to create an outdoor living room, FurnitureForPatio.com carries a variety of patio sectionals. All patio sectionals are eligible for free shipping during the Memorial Day patio furniture sale. Patio sectionals are available in a variety of different styles and materials. If you like more of modern style, the Melrose Curved Sectional has been a popular choice for many customers. Also available are L-Shaped patio sectionals in cast aluminum, resin, and wicker materials. All of the patio sectionals can be customized with your choice of outdoor grade cushions in a variety of fabrics.
FurnitureForPatio.com is quickly becoming one of the best online stores for quality patio furniture and outdoor decorations. Some quality brands you can shop for at FurnitureForPatio.com include Polywood, Telescope Casual, North Cape International and more. Customers can also shop from a great collection of outdoor accessories like mailboxes, address plaques, patio planters, umbrellas and more. To take advantage of the Memorial Day Patio Furniture Sale, customers must place their orders between Friday May 21 until Friday June 3, 2011. All orders placed during the sale will receive free ground shipping.
###