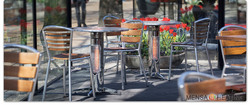 London, UK (PRWeb UK) March 15, 2011
Mensa Heating Vireoo is an innovative and unique outdoor electrical heater that heats your legs and body directly through the table leg. As of the 1st of April, this new Danish product will give UK bar, restaurant and cafe clientele the opportunity to sit comfortably outside, regardless of temperature.
Mensa Heating Vireoo introduces this new method of warming the body by directing the heat towards the feet and legs instead of towards the head as electric wall mounted and gas heaters do. Customers often feel their heads get hot under electric wall mounted and gas heaters while their feet remain frozen under the table leaving their bodies feeling cold. Three entrepreneurs from Denmark (Stig Bloch Milfeldt, Lars Vinther Pedersen and Hans Jørn Søje) created the idea of an eco-friendly patio heater that could be stored safely under a tabletop. Mensa Heating Vireoo was launched in 2010 in Denmark.
Mensa Heating Vireoo heaters use infrared technology and are powered by an efficient infrared shortwave quartz bulb producing shorter wavelength than the traditional incandescent bulbs. This makes it environmentally friendly cutting down the CO2 emissions by approximately 80% compared to a traditional gas heater. The average running cost of Mensa Heating Vireoo is only £0.03 per hour compared to £0.90 per hour for that of a gas heater. For the same cost of using 1 gas heater you could run 30 Vireoo heaters! The table leg has two integrated motion sensors allowing Café owners to save energy since the heater switches on only when someone is seated.
The infrared light is completely safe for the human body and with Mensa Heating Vireoo's unique design it is possible to come into direct contact with the heater without burning. It is similar to the system hospitals use to keep premature babies warm in incubators.
Mensa Heating patio heaters have been granted four certifications:

CE certified (European Conformity): Vireoo meets EU consumer safety, health and environmental requirements. CE Marking authorizes the company to legally place the electric heaters on the European market.
GS Certified: GS Mark stands for "Geprüfte Sicherheit" in German and means Tested Safety. GS mark is a voluntary "certification mark" for technical equipment, which proves in that case that VIREOO meets German and European safety requirements. It also demonstrates that an authorized third party has independently tested our outdoor heaters.
DEKRA SEAL Certified: This certification mark gives the customer a proof of the product's quality and safety. Both of these elements are key for Mensa Heating Vireoo.
DEKRA EMC Certified (electromagnetically compatible): EMC is the study of the unintentional generation and reception of electromagnetic energy and its relationship to electronic devices and systems.
Devices with an electrical energy source like Mensa Heating products must comply with the EMC. They cannot interfere with the operation of other products nor can they be themselves affected by external interference. Mensa Heating Vireoo complies all EMC requirements, which allows the product to be freely marketed throughout the European Union.
Smart Fire Ltd, a young and dynamic London based company, is the sole importer for Mensa Heating Vireoo Pro patio heaters in the UK. The privately held company provides innovative manufacturers with international distribution networks.
More information is available at: http://www.mensapatioheater.com/
Contacts:
JeanCharles Cheung, Managing Director
Alexandra Holze, PR Manager
Smart Fire Ltd
160-166 Borough High St
London, SE1 1LB, UK
Tel: +44 207 173 5014
# # #