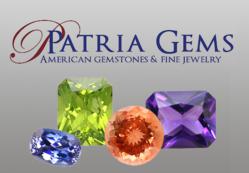 "As a country, America has tremendous wealth in gems, including Montana Sapphires, Oregon Sunstones, California Tourmalines and many more. The extensive list reflects the diversity of our nation's geology."
New York, NY (PRWEB) November 21, 2012
Patria Gems celebrates the launch of their new online store with a special Black Friday sale. "Over the weekend of Black Friday and Cyber Monday we will have our biggest sale of the year with discounts as low as thirty percent off," says Emily Segalini, owner of the jewelry store. The sale starts Friday, November 23 and last through Monday, November 26.
The company's mission is to sell jewelry pieces that are exclusively Made in America, using American gemstones as the focal points in their collections. "Our colored gemstones are mined right here in the USA," explains Segalini, "As a country, America has tremendous wealth in gems, including Montana Sapphires, Oregon Sunstones, California Tourmalines and many more. The extensive list reflects the diversity of our nation's geology."
Patria Gems also sources their platinum, gold, and silver settings in the USA, working with local manufacturers to produce their designs. "Our model is to leverage our partnerships with artisans in New York's diamond district to produce something for our customers of great beauty and lasting value. We are constantly adding new products to our store, so we encourage our customers to check in frequently," says Segalini.
Patria Gems is located online at http://www.PatriaGems.com.