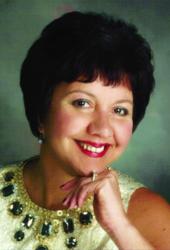 Patricia Bellomo, a nice lady with a naughty imagination.
Detroit, MI (PRWEB) May 24, 2011
Patricia Bellomo, author of the crime thrillers, Louie Morelli's Daughter and Stella di Mare, was a guest on Dr. Marlene Siersema's "Amazing Women: Brains, Beauty, and Style" show on Wednesday, May 18. Dr. Marlene's show is aired on Voice America/World Talk Radio and has a worldwide audience. Patricia Bellomo was her guest for the full hour.
Dr. Marlene asked Patricia Bellomo why a nice lady like her was writing about mobsters and mayhem, and she replied, "I have a naughty imagination."
Patricia Bellomo did admit to having known "a few Louie Morelli types", explaining why there is an authenticity to her characters that separates them from the usual stereotypes. There are no cigar-chomping, polyester wearing thugs on her pages, and she told Dr. Marlene her books are not about the mob, but about mobsters pursuing legitimate interests until circumstances compel them otherwise. And being that Patricia Bellomo writes crime thrillers, there is no shortage of complications.
In her latest book,Louie Morelli's Daughter, Louie's beautiful daughter, Stella, gets abducted by loan sharks intent on recouping her husband's gambling debts, and Louie sets out to rescue her and avenge her honor. Along the way a few obstacles appear, and his mission soon changes from one of revenge to silencing adversaries. During the process Stella goes from being daddy's darling to an accomplice to murder.
Dr. Marlene urged her audience not to miss this thriller. She commented on the characters and their great sense of place, and the book's setting, much of it in Delray Beach, with brief forays into suburban Detroit and New Orleans. She asked Patricia Bellomo about the themes of murder, revenge, and infidelity—more specifically, was she concerned about offending Italian-Americans by portraying them in a bad light, and the author replied, "I certainly don't wish to offend anyone, but it is entertainment. Get over it."
In addition to being a guest on Dr. Marlene's show, Patricia Bellomo has appeared on several radio programs, including Conversations with Peter Solomon in Philadelphia, the Chris Oaks Morning Show in Toledo, and the Kim Pagano Show in Los Angeles. Speaking with co-host Robin Macblane on the Larry Whitler Show in Ocala, Florida, Patricia Bellomo said her inspiration comes from life experiences, persons she has known, as well as from the characters themselves. "I get flashes of insight, and my characters have been with me a long time."
Ms. Macblane, having just finished reading Louie Morelli's Daughter, acknowledged it was page turner, and echoed the sentiment most of Patricia Bellomo's readers agree on. "This would make a great movie or HBO series."
Patricia Bellomo is scheduled to be on Tron Simpson in the Morning in Colorado Springs next Monday. Other stops on her promotional tour include venues in her hometown of Clinton Township—a suburb of Detroit. Dad of Divas, an on-line book reviewer, described Louie Morelli's Daughter as "a page turner", and as "a book I simply could not put down". A reader put it this way, "Louie Morelli's Daughter is awesome. Patricia Bellomo has the best characters in fiction."
# # #