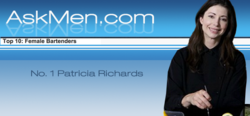 Plus, she is the most powerful woman on the spirits scene in Las Vegas, one of the booziest cities on earth, with an honorable Rat Pack tradition of fine and copious cocktail-imbibing.
Las Vegas, Nevada (PRWEB) September 15, 2011
The site features some of the newest and trendiest cocktail recipes and mixed drinks from Sin City as well as the inside scoop on the hottest alcohol brands by top US bartender Patricia Richards. Discover exclusive interviews with world renowned wine and spirits personalities including Steve Olson, aka wine geek, and Tony Abou Ganim, The Modern Mixologist. Learn about leading brand names including Seth Podell of Rock Sake. For those unfamiliar with Rock Sake, it is one of the 'in' drinks to be seen with at Las Vegas pool parties; a domestic sake with just half the calories of vodka. In another interview, Patricia speaks with Sophia Partida of Partida Tequila. Partida Tequila being a favorite of mixologists and of Oprah Winfrey herself. Partida comes from the Valley of Tequila where the best agave is located.
The site itself is a great example of how web 2.0 should be. It is crisp, clean, sports an exciting blog, with plenty of video and easy to navigate cocktails recipes and mixed drinks. From a menu of contemporary classics to dessert cocktails, drinks for special occasions and by season, as well as an array of spicy, tart, hot and fruity favorites. Whatever cocktails one is into if just looking for something exciting and new to wow friends, impress guests, or put the perfect finish on a sizzling date, a satisfying recipe will likely be found here.
In addition to the new website at patriciarichards.biz which is sure to quickly become a favorite for up and coming bartenders and mixologists who want to be on the forefront of their craft, two new video books from Patricia Richards can be found on the online store for foodies at FoodEnquirer.com. '1-2-3 Margaritas' shows a variety of margarita cocktail recipes while 'Rock Sake Poolside Cocktails' introduces you to refreshing sake drinks.
Based in Las Vegas, Nevada, Master Mixologist Patricia Richards has over 20 years experience in the hospitality industry, including 10 years bartending experience. Her creativity, passion and drive for learning, have won her several accolades, including a silver medal in the 2006 Bacardi Martini Grand Prix in Torino, Italy, a 2009 Sante Iron Bar Chef Competition win, 2010 national Milagro Tequila and Finlandia Vodka competition wins, as well as first place nod by AskMen.com as the 2011 top female bartender in the country.
This new website is only for those 21 years and over, and as always, drink responsibly.
###