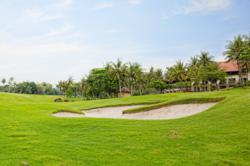 Palm Desert, CA (PRWEB) February 27, 2013
Brad Schmett, Broker Associate with Luxury Homes by Keller Williams, today announced that the Palm Desert real estate market will enjoy a significant boost as the upcoming Third Annual Patrick Warburton Celebrity Golf Tournament for St. Jude Kids packs in visitors from far and wide to gorgeous Palm Desert's Marriott Resort and Classic Club Course for a three day extravaganza to benefit the children of St. Jude Hospital.
Set to commence on Friday night, March 1, at 6pm with a pairings party followed by an all-star jam session, the three day event is expected to raise thousands of dollars to help support the heroic efforts of St. Jude Hospital for children. Saturday morning will be reserved for registration and breakfast followed by the first Shotgun Start. Saturday evening will be ablaze with the Gala Tournament Dinner and Comedy Show. On Sunday patrons will breakfast at 9am followed by more golf.
Brad Schmett, an avid golfer himself recently noted, "This is one of the premier charitable events of the season, always well attended and wildly successful. We see so many celebrities, whose generosity is heartwarming, involved with this event. In fact, Patrick Warburton has an amazing board, most of who are based here in the desert. My calendar is always free for the new home shoppers who come out to support St. Jude and these worthy kids."
Busy actor and performer Patrick Warburton and his wife Cathy are dedicated to raising funds every year for St. Jude Children's Hospital. This year they welcome a bevy of famous friends including Alice Cooper, Cheech Marin, Robby Krieger, Brett Baier, Kim Carnes, David Brock, John Elefante and many more.
The JW Marriott venue in Palm Desert is luxurious and well appointed, offering the finest in accommodations and dining for all attendees. Buy your event tickets early as a sellout is expected.
For more information on the 3rd Annual Patrick Warburton Golf event visit http://patrickwarburtongolf.com
To find out more about investing in La Quinta, CA real estate visit http://www.PalmDesertRealEstateInfo.com
About Luxury Homes by Keller Williams: Luxury Homes by Keller Williams – Palm Springs, is an exclusive, elite and sophisticated group of real estate consultants raising the bar for service in the upper-tier Palm Desert and Palm Springs area residential real estate market.