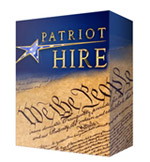 Patriot HIRE makes hiring simple.
Canton, Ohio (PRWEB) March 19, 2012
Patriot Software, Inc., of Canton, Ohio, is announcing a new online applicant tracking system: Patriot HIRE.
With Patriot HIRE, employers can manage their entire hiring process online for only $12 a month. Through a partnership with Job Javelin, an Internet job posting service, HIRE customers can easily advertise the job, choosing from hundreds of popular career sites.
"Hiring can disrupt the day-to-day work of small business owners," said Mike Kappel, president of Patriot Software. "Patriot HIRE makes hiring simple. Our software is not bogged down with features employers don't need. They can create a job ad, advertise it to a wide audience with Job Javelin, and review incoming candidates without picking up the telephone."
Candidate Information All In One Place
Here's an overview of how HIRE works:
Employers enter their open jobs into HIRE.
Each job has a unique job application web page used when advertising the job. Job seekers visit this page to upload their resume and apply.
A candidate record is automatically created in HIRE, and the employer is notified by email.
Employers can log in anytime to track candidates through the hiring stages.
Discounted Pricing on Job Posting
With the special Job Javelin offer, HIRE customers can pay just $49 for a 30-day posting on popular sites related to their industry, specialty, or region. In addition, the advertisement automatically posts to national career websites for greater exposure.
Free Test Drive and Free Trial
Employers can take a free 48-hour test drive of a Sample System to view sample jobs, candidates, and Job Javelin postings. They can also sign up for a guided demo with a customer support representative.