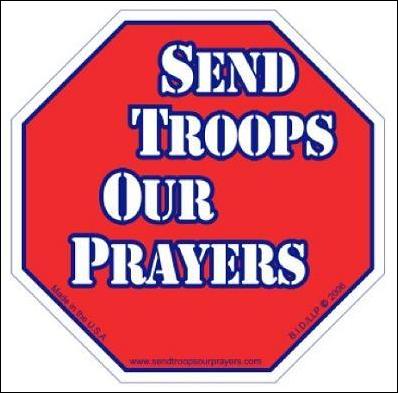 The men and women of our armed forces deserve our support for their well-being and safe return to their homes and families.
Hamilton, MT (PRWEB) August 29, 2006
Bitterroot Innovation Design (B.I.D.) introduces a patriotic magnet, which serves as a reminder to show support in the form of prayers for the safe return of American troops. The company offers quantity pricing for patriotic groups and organizations that wish to utilize the magnets as fund raising awareness items.
Each Red, White and Blue magnet is a 4.75" octagon, which features the phrase, "Send Troops Our Prayers." The "S.T.O.P." magnets are Made in the U.S.A. and offer the finest quality 30 mil. magnetic material. The inks and coating are high UV resistance for a long life even under the sun to avoid fading.
The Send Troops Our Prayers magnets are available from B.I.D. for worldwide distribution (http://www.sendtroopsourprayers.com). In the spirit of support, all profits after taxes from the sale of the B.I.D. Send Troops Our Prayers octagon magnets go to the disabled.
"It only takes a few moments of our time to remember in prayer those who serve to protect our country and preserve our freedoms," said a representative of Bitterroot Innovation Design. "The men and women of our armed forces deserve our support for their well-being and safe return to their homes and families."
About Bitterroot Innovation Design
Bitterroot Innovation Design is a majority woman-owned Limited Liability Partnership, registered in the state of Montana and located in the Bitterroot Valley. B.I.D. is in the business of creating innovative improvements to existing products, services and ideas. Influenced by consumer demand, the company plans to launch S.T.O.P. lapel pins and vehicle window decals in the near future. For more information on how to support American troops or to order a patriotic Send Troops Our Prayers magnet, please contact:
Jimmy Maddox, director of public relations
Bitterroot Innovation Design
406-375-0027
###