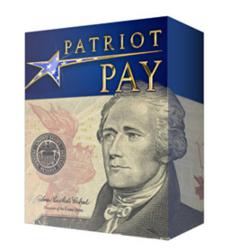 Patriot Software also offers free payroll set-up and free routine support for customers
(PRWEB) April 10, 2012
Business owners in Alabama can now take advantage of Patriot PAY online payroll software to process their payroll. Patriot PAY is now available in Alabama as well as 32 other states, including Mississippi, Georgia, Florida, and Tennessee. Patriot PAY is offered only to American small businesses, giving employers an easy, affordable way to run accurate payroll, anytime or anywhere.
Here's how Patriot PAY works: Customers can log into the secure Patriot PAY website from anywhere, whether they're at home, at the office, or on the road. After entering their employee hours and approving the payroll, they can pay their employees by any method they choose, including printed or handwritten checks, direct deposit, or online bill pay.
With Patriot PAY, there's no need to worry about installing software or tax table updates: all updates are automatic. Customers can count on guaranteed accuracy of all payroll tax calculations.
"Patriot Software also offers free payroll set-up and free routine support for customers," said Wendy Smith, payroll manager for Patriot Software.
"Our customer support representatives are trained payroll professionals, and they actually use the system to gain a full understanding of Patriot PAY," said Smith. "Not only do they know step-by-step procedures, but they know payroll from A to Z, from setting up a new hire to preparing year-end payroll taxes and returns."
With the optional TaxBeGone payroll tax filing service, Patriot Software can take care of all payroll tax deposits and filings for Patriot PAY customers, including federal, state, and local payroll taxes. With MY Patriot, the optional employee self-serve (ESS) website, PAY customers can offer their employees secure online access to their pay stubs, pay history, and banking information.
Patriot PAY is priced to be affordable for small business owners, with month-to-month fees scaled to the number of employees in the business. Access to the payroll software starts at just $10 a month for companies with one employee. Similar pricing is available for up to 50 employees.
Employers can try a Sample System of Patriot PAY free or schedule a guided demo with a support representative. Then, they can sign up for Patriot PAY and receive the first 30 days for free. With Patriot, there's no obligation: customers can add or cancel anytime with no hassle.
About Patriot Software, Inc.
Patriot Software, Inc., located in Canton, Ohio, develops online software for American small businesses, including online payroll software, applicant tracking software,Employee Self-Serve software, and more. For information on all of our products servicing Alabama, contact Patriot Software, Inc., at (877) 968-7147, or visit our Press Page at http://www.patriotsoftware.com/press.