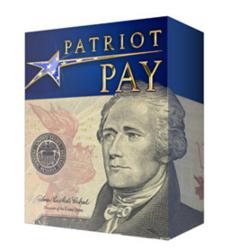 Canton, Ohio (PRWEB) March 26, 2012
Arizona employers can now trust their payroll needs to Patriot PAY, online payroll software from Patriot Software, Inc.
Patriot PAY is now available in Arizona as well as 32 other states, including Utah, New Mexico, California, Nevada, and Colorado. Whether they're traveling from Flagstaff to Phoenix or out of state, Arizona employers can run payroll, anytime or anywhere.
Patriot PAY is easy to use, with built-in help and access to free routine customer support. Because Patriot PAY is online, all software and tax updates are automatic -- no downloads necessary. Employers pay their employees by any method, including paychecks they print on their own printer or free direct deposit.
Low-Cost Payroll Alternative
Patriot PAY is priced to be affordable for small businesses. Instead of a one-size-fits-all approach, Patriot PAY is priced per employee, with access to PAY starting at just $10 a month. Patriot PAY is available for businesses with up to 50 employees.
Free Set-up for New Customers
Customers can switch to Patriot PAY anytime with the Free Set-up Package. Patriot will enter employee and tax account information, as well as any year-to-date payroll data, and walk customers through their first payroll.
Optional Tax Filing Service and Employee-Self Serve Software
With the optional TaxBeGone payroll tax filing service, Patriot handles all payroll tax deposits and filings for local, state and federal payroll taxes. Employers who opt for the MY Patriot Employee Self-Serve (ESS) software can grant employees online access to their paystubs, pay history, and banking info (a great complement to direct deposit.)
Try Patriot PAY for free
Arizona employers can test drive Patriot PAY's sample system free for 48 hours, or schedule a guided demo with a Patriot Customer Support representative. Then, they can sign up for Patriot PAY and get their first month free. With Patriot, customers can add or cancel services at any time without obligation, penalty, or hassle.