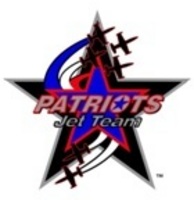 We are grateful that Fry's and Hotline share our vision for becoming America's Jet Team while educating our nation's youth
San Francisco, CA (PRWEB) November 17, 2010
The Patriots Jet Team will become America's only civilian six-jet demonstration team in 2011. The all-volunteer team today announced it has added two jets to its current four-ship demonstration program. The Patriots performs precision aerobatic maneuvers in sleek, midnight black L-39 jet aircraft at speeds over 500 miles per hour.
Based in Byron, CA, near San Francisco, the Patriots Jet Team will perform its ninth year of operation featuring former U.S. Air Force Thunderbird, U.S. Navy Blue Angel and Royal Canadian Air Force Snowbird pilots. Team members have more than 80,000 hours of total flight time and have performed in over 1,500 air shows. The group was founded in 2002 with a mission to entertain air show and special events audiences, while encouraging the nation's youth towards careers in the aviation and aerospace fields. The Patriots' 2011 air show schedule will be announced in January at http://www.patriotsjetteam.com.
"Thanks to the solid support we have received over the years from our major sponsors, Fry's Electronics, and Hotline Construction, Inc., the Patriots are the premier civilian-owned jet demonstration team in North America," said Patriots "Boss", Randy Howell. "We are grateful that Fry's and Hotline share our vision for becoming America's Jet Team while educating our nation's youth," he said.
About Fry`s Electronics
Fry`s was founded as a Silicon Valley retail electronics store to provide a one-stop-shopping environment for the hi-tech professional. Fry`s continues to keep hi-tech professionals supplied with products representing the latest technological trends and advances in the personal computer marketplace. Fry`s retails over 50,000 electronic items within each of its 34 stores. The stores range in size from 50,000 to over 180,000 square feet. Fry`s also provides customers with added shopping opportunities via its online center at http://www.Frys.com.
About Hotline Construction, Inc.
Hot Line Construction, Inc. was established, as a closely held W.B.E. contractor in 1986 specializing in underground high-voltage cable installation, splicing, and terminating. Since inception, Hot Line has continued to grow and expand its expertise in all aspects of the high-voltage construction industry. Today, HLC remains a closely held CPUC certified W.B.E. Corporation and provides a full spectrum of high-voltage expertise and services to its customers. Learn more about Hotline Construction at http://www.hotlineconstructioninc.com.
About the Patriots
Sponsored by Fry's Electronics and Hot Line Construction, the all-volunteer Patriots Jet Team has electrified spectators with their fast-paced aerobatic maneuvers in L-39 jets since 2003. In 2011 the Patriots Jet Team will expand to a six-ship team. Performances are flown by lead pilot and former Thunderbird, Dean "Wilbur" Wright, right wingman Rob "Stache" Hutchison, left wingman John "Boardz" Posson, slot pilot and former Thunderbird, Paul "Sticky" Strickland, Outer Left Wing and former RCAF Snowbird, Rob "Scratch" Mitchell, Outer Right Wing and former Blue Angel, Scott "Banker" Ind.
Visit the Patriots web-site at http://www.patriotsjetteam.com or Facebook Page: http://www.facebook.com/patriotsjetteam.
Join the Patriots at ICAS December 5th – 8th at the Paris Las Vegas Hotel in Las Vegas, Nevada.
# # #