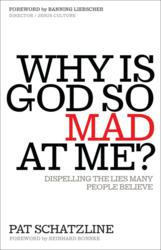 In this captivating book, Pat has gone deep into the hidden places of the heart, where insecurity and fear keep us from fully receiving the perfect love of our heavenly Father.
Trussville, Alabama (PRWEB) December 23, 2012
Using his own experiences as a guide, Schatzline takes a look at the ways that God's love appears in our lives, even in the darkest times and most difficult trials.
Schatzline points out that God draws us in with His love, not His wrath. Throughout the book, the author uses quotes from scripture to support his view, providing many different examples of God's love in the pages of the Bible. Additionally, he uses instances from his own life and from his numerous years of experience as an evangelist, ministering to more than two million people all over the world, as further proof of the healing power of God's love.
Many people find themselves confronted with the question of whether or not God loves them. Through the many trials they face, through bad things in their past or present, or by not understanding the nature of God's love, the question has undoubtedly come up in the hearts and minds of many. Schatzline's book is eager to appease this grief and worry by expounding on the forgiving nature of God and the ways in which His love is all-encompassing, no matter who we are or what we have done.
Launching his book tour in January 2013, and traveling all over the country to share his views, Schatzline is reaching out to readers everywhere with his message of love. Why is God so Mad at Me? is available now on Amazon for readers worldwide.
Pat Schatzline
"Pat Schatzline is the founder of Mercy Seat Ministries, Inc. One of America's leading communicators and an evangelist to all ages, he and his wife, Karen, have ministered internationally to more than two million people. Known for his crazy humor and unique ability to communicate God's word with passion, Pat's mission is to introduce a generation to the awesome love of the Father."
In 1997, Pat and his wife, Karen, co-founded Mercy Seat Ministries. Since then, they have ministered to over two million people in their travels around the world. He and Karen also founded the Forerunner School of ministry in 2001, and have since helped to launch many more sites. Along with traveling the world as evangelists, Pat and Karen enjoy playing games, working out, watching movies, and spending time with their friends and family.
Follow Pat on Twitter @patschatz
Follow more of Why is God so Mad at Me on Twitter http://twitter.com/Godsnotmadatyou