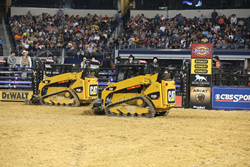 Patten Cat, the local Caterpillar heavy equipment dealer, is excited that Caterpillar corporate has signed on as a sponsor of the 2014 Professional Bull Riders series.
Elmhurst, IL (PRWEB) July 27, 2014
Bring out your inner buckaroo just in time to celebrate the "National Day of the Cowboy" on July 27 and head on over to your local Bass Pro Shop where they've teamed up with Patten Cat and Professional Bull Riders, Inc (PBR) to host a PBR Family event.
From 12pm – 4pm on Sunday, July 27, PBR, Caterpillar and Bass Pro fans who live near the Gurnee, IL, Bolingbrook, IL and Portage, IN Bass Pro Shops will get a chance to meet a professional bull riding expert, check out the latest Patten Caterpillar agriculture equipment and enjoy other fun activities like face painting, bull roping, stick bull riding, crafts and a store wide clearance sale. Plus, the first 100 customers will be given a cowboy hat light-up key chain.
Junior cowboys and girls will also be able to participate in a costume contest on Sunday, July 27th. Dress your little ones in their best cattlemen-and-women gear and one lucky winner will receive a $50 Bass Pro Shops Gift Card. Judging begins at 2:30pm.
At the Gurnee, IL location, guests will get the chance to see a Patten Cat 305E CR mini excavator equipped with a 12" bucket. The mini excavator is built to deliver high performance in a compact radius design to help you work in the tightest applications. Over at the Bolingbrook, IL Bass Pro Shop, shop-goers will see a 262D skid steer loader with a 10' sectional snow push. Caterpillar snow pushers are unique. The design allows for one push to scrape the surface, minimizing follow up pushes, reducing the amount of salt needed to control ice buildup.
The workhorse of the PBR show, the Cat 289D compact track loader, will be on display at the Portage, IN location. Since there are dozens of rides during each evening of a PBR event, the CTL is brought out to clean up the arena to maintain an even playing field for the bulls and bullriders. The 289D will be shown with a Cat multi-purpose bucket attached. Cat multi-purpose buckets are extremely durable buckets, ideal for a wide variety of tasks in construction, landscaping, industrial and demolition applications.
Patten Cat, the local Caterpillar heavy equipment dealer, is excited that Caterpillar corporate has signed on as a sponsor of the Professional Bull Riders series. There are between 5-8 pieces of Cat equipment involved in each event – all provided by (or rented from) a local Cat dealer. In fact, ticket-goers may have spotted Patten Cat's agriculture equipment hard at work during the January 11th and 12th Chicago Invitational held at the Allstate Arena in Chicago, IL.
###
About Patten Cat: Patten Industries, Inc. (Patten Cat) is the authorized Caterpillar® dealer for 17 Counties of Northern Illinois and 2 Counties in Northwest Indiana. Their goal is to provide you with premium products and solutions at a great value in order to make you successful and maximize your uptime. Patten Cat is headquartered on a 20-acre campus in Elmhurst, IL, with branch locations in Joliet, Oglesby and Rockford, IL as well as Hammond, IN. Their four divisions, Patten Construction Products, Patten Power Systems, Patten Truck Centers and Great Lakes Equipment Co., offer support for over 20 different industries.
About PBR: Headquartered in Colo., the Professional Bull Riders, Inc. was created in 1992 when a group of 20 visionary bull riders broke away from the traditional rodeo scene seeking mainstream attention for the sport of professional bull riding. The combination of raw sport and quality entertainment has propelled the PBR to strong growth in live attendance as well. In 1995, 310,000 fans attended PBR events across the nation. Today the PBR attracts over 1.5 million live event attendees each year with its multi-tiered event structure. Professional bull riding is a fierce, rough, and grueling sport with roots deeply imbedded in American culture. It's America's original extreme sport.
About Bass Pro Shops: Bass Pro Shops, which was founded in 1972 by avid outdoorsman and conservationist Johnny Morris, is a leading retailer of equipment for hunting, fishing, camping, boating and other outdoor pursuits. Bass Pro Shops has 87 retail stores and Tracker Marine Centers across America and Canada that are visited by more than 116 million people every year. Bass Pro Shops is dedicated to inspiring people, especially youth and families, to love, enjoy and conserve the great outdoors.