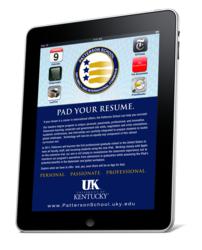 What's really compelling about PressReader is that it delivers every newspaper in its entirety.
Vancouver, Canada (PRWEB) May 11, 2011
For the past few months, 50 students and faculty at the University of Kentucky's Patterson School of Diplomacy and International Commerce have been participating in a trial to assess the viability of Apple's iPad as a tool to support them in their graduate program. Among the hardware and software products the students are evaluating is the PressReader iPad app from NewspaperDirect. PressReader gives them instant access to more than 1,800 full-content digital replicas of newspapers and magazines from 94 countries, often before they hit the newsstands in their local markets. Already, PressReader has proved to be an invaluable tool as the students learn about foreign societies and cultures, and read their local newspapers to understand how world events are perceived and interpreted abroad.
Over the next few weeks, these students will fan out to various countries (including Belgium, Cambodia, China, Ethiopia, France, Macedonia, Nicaragua, Rwanda, South Africa and Switzerland) to embark on summer internships that will challenge them to apply and hone the skill of statecraft. First, though, they must immerse themselves in the politics, culture and worldview of the countries that will be hosting them.
In a world where 24-hour news blogs and websites provide a continuous deluge of disparate news stories of questionable value, local newspapers from foreign countries play an important role for these budding diplomats. Through PressReader on iPad, these publications, presented as complete, digital replicas of the printed editions, are emerging as essential information sources that enable the students to take a pulse of the region they will be visiting, and gain insight into local issues, events, and politics.
"A key element of diplomacy is understanding the context that shapes local opinion. What's really compelling about PressReader is that it delivers every newspaper in its entirety, not just selected articles, so students can better grasp the wider societal trends of that country," said retired Ambassador and Patterson School Director Carey Cavanaugh. "PressReader provides tools to understand news stories in the context of that society's culture, and can translate the paper into the student's language. PressReader even helps them gain insight into other important cultural drivers, such as local advertising, political cartoons, and letters to the editor — crucial elements that are often missing from online news sites."
Laura Leavell, a first-year graduate student at Patterson, with an undergraduate degree in Agricultural Economics, is studying for her Masters in Diplomacy and International Commerce. She enjoys using PressReader because it allows her to stay abreast of local opinion and issues regarding the construction by the United States of a dam on the Mekong River. "I've been able to read about clashes along Cambodia's border with Thailand, and track local coverage on sex-trafficking," said Leavell, who will be interning in Phnom Penh this summer.
Another student, Rebecca Miller, has secured an internship in Skopje, Macedonia with the U.S. Department of State. For Miller, PressReader's presentation of a facsimile of the original newspaper facilitates her understanding of the relative importance of different news stories; PressReader also helps her learn a new language, "It's great to be able to flip through and browse the complete newspaper — even the crossword puzzle. And the wide variety of publications available from around the world helps me get a better perspective on global events and appreciate the contrasting presentations of the same news in different newspapers."
Developed by NewspaperDirect Inc., the world leader in multichannel newspaper and magazine content distribution, PressReader for iPad delivers a visually stunning way to enjoy over 1,800 full-content newspapers and magazines from 94 countries available on PressDisplay.com, the world's largest online publication kiosk.
Key features of PressReader for iPad include:

Daily automatic download of user-selected titles
Fast navigation using thumbnails or tables of contents
Intuitive reading experience: flip, pan and zoom articles and photos, and view them in stunning clarity
Support for full graphic page views or easy-to-read text views of articles
On-demand audio that reads the article aloud
Sharing of articles by email or by posting on social network sites.
Wirelessly print full pages and individual articles to AirPrint-enabled printers.
"We are tremendously proud to be working with the Patterson School of Diplomacy and International Commerce on their iPad initiative," said Alex Kroogman, CEO of NewspaperDirect. "I cannot think of a better way to showcase the power of PressReader — we're seeing firsthand how the wealth of excellent journalism it delivers in such an immersive reading experience can play a significant role in a rigorous and visionary learning environment."
About PressReader
PressReader is the companion offline application for the world's largest online newspaper and magazine kiosk, PressDisplay.com. PressReader delivers the most authentic newspaper-reading experience on PCs, Macs, smartphones, Apple iOS devices (iPhone, iPod Touch, and iPad), BlackBerry devices, and the latest Android handhelds and tablets (Samsung Galaxy Tab, ASUS eeePad, HTC). PressReader for Apple iOS is available as a free download from the iTunes AppStore. Most individual newspapers and magazines can then be purchased for $0.99 per issue, or downloaded in conjunction with a paid subscription on PressDisplay.com. For details on subscription pricing, visit the subscription page. Follow PressDisplay and PressReader on facebook.com/pressreader, Twitter @pressdisplay, and youtube.com/user/pressdisplay.
About NewspaperDirect Inc.
NewspaperDirect delivers the world's newspapers and magazines to millions of readers the way they want to receive them — in print, online, or on their mobile device, tablet or eReader — wherever they live, travel, work or play. With the most innovative digital publishing technology in the industry and the only zero operational-cost business model, NewspaperDirect is recognized as the world leader in multi-channel content distribution and monetization, and is the chosen partner of more than 1,800 publishers from 94 countries.
###