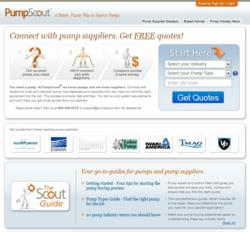 Patterson is well known for its high quality products and services. PumpScout is proud to recommend Patterson pumps to our clients.
Tacoma, Wash. (PRWEB) January 11, 2013
Pump buyers requesting price quotes on PumpScout.com now have access to a range of high-quality water pumps manufactured by Patterson Pump Company, a Gorman-Rupp Company.
"This partnership is not only great news for PumpScout.com, it's also fantastic for the thousands of pump buyers who use PumpScout.com to find suppliers and pumps," says Justin Johnson, CEO of PumpScout.com. "Patterson is known around the globe for the quality of their water and waste water products and services."
Patterson specializes in heavy duty flow control equipment for a range of applications that involve moving water and other liquids such as fire suppression, flood control, HVAC, and industrial. The company offers numerous pump types including vertical turbine, vertical in-line, horizontal split case and mixed and axial flow models.
The pump manufacturer has sales and service offices, as well as manufacturing plants, in locations around the world. Patterson's global presence means their customers can easily tap into to the company's expertise and service whenever they need.
"We are excited about being a featured supplier on PumpScout.com and connecting with the increasing number of buyers who use the website," says Brian Henry, in Patterson's Marketing/Technical Services. "We've already received several high-quality leads and we're looking forward to getting even more."
PumpScout.com aims to streamline the pump buying process by providing buyers with an easy way to find suppliers and get multiple product quotes. PumpScout users fill-out the simple quote request form, and then PumpScout immediately connects them with pump suppliers who can provide the appropriate product.
"We're proud of the high-value leads that we're sending our partners every day," Johnson says. "We've created an innovative way to ensure that the thousands of people searching the Web for pumps connect with the right suppliers. And the end result is a faster process for buyers and more sales for suppliers."
About PumpScout.com
PumpScout.com is a supplier search engine featuring more than 180 companies and their product lines. PumpScout.com connects pump buyers with pump manufacturers and distributors and provides them quotes – fast and free.
PumpScout.com also features consumer information, tools and tips on buying and maintaining all kinds of industrial pumps.
For more information, visit PumpScout.com.