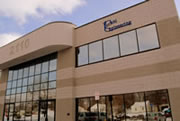 I just did not see the need for another integrator in our market, but their engineers came in and wowed us with their technical knowledge and capabilities with Siemens automation products
Auburn Hills, Michigan (PRWEB) June 26, 2012
Patti Engineering, Inc, a leader in control system integration, celebrates the second year anniversary for its Austin, Texas branch today. Founded on June 3, 1991, Patti Engineering sought diversification and growth opportunities during the severe economic downturn which hit the Michigan area especially hard. Sam Hoff, founder and president of Patti Engineering identified the energy and industrial rich Texas market as an ideal opportunity.
In a market with a strong presence of existing control system integrators, some had doubts the Auburn Hills, Michigan based company would be successful in carving their own niche. Austin/San Antonio Siemens Senior Account Manager, Rich Jacobson was among the skeptical.
"I just did not see the need for another integrator in our market, but their engineers came in and wowed us with their technical knowledge and capabilities with Siemens automation products," commented Jacobson. "The difference was night and day. Patti Engineering is the best Siemens Automation Solution Partner that I have ever had the pleasure to work with. They quickly became our top go to resource."
Steve Palmgren, Patti Engineering senior electrical engineer and branch manager is leading Texas expansion efforts. Steve's experience as the lead engineer on many of Patti Engineering's major projects for the past ten years has proved invaluable. The company has been adding to their Texas engineering staff and will soon be hiring a local business development manager.
"Celebrating our 2nd year anniversary is a great honor. I attribute our ability to successfully enter into the Texas market with strong growth results to our most valuable assets: our talented and dedicated engineers whose performance has quickly established Patti Engineering as a trusted and valuable resource to our new clients," said Hoff. "In addition, we want to thank all of our business partners and new clients for helping us achieve this milestone."
Patti Engineering is a CSIA Certified Integrator and a recognized partner to many automation technology companies. Patti Engineering is a Siemens Solution Partner, an Authorized Mitsubishi Integrator, in addition to being in the integrator programs for Phoenix Contact, Iconics and Indusoft. The highly skilled team of engineers has technical expertise in the design and implementation of electrical control systems in a wide variety of industries: powertrain manufacturers, automotive parts plants, robotic paint systems, textile mills, retail distribution centers, power plants, oil rigs, chemical plants, and dam spillways.
About Patti Engineering, Inc.
Founded in 1991, Patti Engineering, Inc. is a CSIA Certified control system integration company based in Auburn Hills, MI with offices in Massachusetts and Texas. Patti Engineering's technical expertise provides turnkey control system integration services for design/build, upgrade/retrofit and asset/energy management projects; including project management, electrical engineering, hardware design, hardware procurement, software development, installation, calibration, start-up testing, verification, documentation, training and warranty support. Patti Engineering solutions are used in manufacturing facilities, retail distribution, municipalities, food industry, libraries, law enforcement, military, ice arenas and college/universities. Visit the Patti Engineering website at http://www.pattieng.com/ and find us on Twitter, Facebook and LinkedIn.