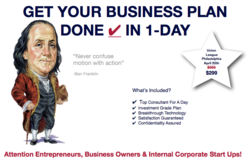 How do we virtualize the consulting process to create an investor quality set of documents more efficiently and effectively than we ever have? That is a question top strategy consultant Marcus Tarrant asked.
Philadelphia, PA (PRWEB) April 09, 2012
Patty Smith Worldwide, Inc., a strategic enterprise risk solutions specialist and Mission HQ Pty, Ltd. Australia, developer of HyperQuestions™ technology, to co-facilitate a Business Planning Masterclass and produce 50-100 investment grade Business Plans in a 1-Day workshop on April 25, 2012 in Philadelphia.
Calling entrepreneurs, start ups, internal corporate project developers and small business owners. President Obama signed the JOBS Act on Thursday afternoon. Now it's time to ink the investment grade plans for America's future.
With Business Planning, there are 40 key things an investor needs to know. "How do we virtualize the consulting process to create an investor quality set of documents more efficiently and effectively than we ever have?" That is a question strategy consultant Marcus Tarrant, asked. Business Planning with HyperQuestions has been rigorously tested in the Australian market, for capital raising plans of small businesses, high growth ventures, new products, divisions and technologies. It is a technology that is adapted for a wide range of applications. Most recently, HyperQuestions™ was used to implement a prospectus building tool, effectively dis-intermediating the document building process, taking the cost from about 40,000 down to about 700. We're excited to be able to introduce this here in the US.
In the JOBs Act the SEC will take an active role in supporting capital formation in a part of the economy not served by Wall Street, very small businesses. Said Patty Smith, "It's possible, that the Crowdfunding aspect with the regulatory structure of the JOBS Act, will help us to demonstrably increase the success and job creation rates of small businesses. This is an improvement America has a huge interest in."
Please join us for a productive day, in Philadelphia, to get your investment grade business plan done. See first hand how disruptive, scaled technologies are being used, to develop game changing ideas and foster competitive excellence. The Business Planning Masterclass 1-Day event in Philadelphia, using HyperQuestions™ technology, is also being featured at a Plug and Play event in Silicon Valley, on April 20, 2012. Contact us to schedule a 1-Day workshop in your city. At $375, the price point is hard to refuse for a top investment grade plan. Register for Philadelphia early, by April 12, 2012 and you will save an additional $76.
About US
Marcus Tarrant, Founder
Business Planning HQ
http://www.businessplanninghq.com
Marcus Tarrant, developer of the Business Planning HQ Tookit is an experienced management consultant who has worked for leading consulting and venture capital firms including: Deloitte Consulting, Lloyd Morgan Consulting, and Offspring Ventures. He has assisted early stage and high growth ventures over the past 20 years in raising capital in The United States, United Kingdom, and Australia. Marcus holds a Bachelor of Economics and a Masters in Entrepreneurship.
Patty Smith, Founder
Patty Smith Worldwide, Inc.
http://www.pattysmithworldwide.com
Patty Smith, is an experienced enterprise risk management solutions consultant, with two decades of experience working with professionals, executives and directors and officers in the world's top professional and financial industry businesses. She is an alumni of AIG, Stewart Smith Group, a division of Willis Faber, London, and Tri-City Brokers, now owned by Crump Group. Patty has a Bachelor of Science and Masters in Business Administration.