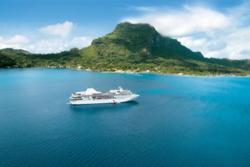 This is absolutely the most luxurious ship to sail in Tahiti on a year-round basis.
Missoula, MT (PRWEB) January 31, 2012
Adventure Life has unveiled a series of small ship adventures to the South Pacific aboard the Paul Gauguin cruise ship, a luxury vessel designed specifically to sail the shallow seas of Tahiti and French Polynesia. A variety of South Pacific cruise itineraries are available from February-December, ranging from eight to 15 days. To learn more about Adventure Life's Paul Gauguin cruises or for Adventure Life reviews call 800-344-6118.
"The Paul Gauguin cruises visit small South Pacific ports that larger ships can't reach and naturally blend into the spectacular beauty of the South Seas," said Adventure Life Operations Director Jonathan Brunger. "The atmosphere aboard ship radiates cordiality, casualness, and Polynesian flair."
Adventure Life's Paul Gauguin cruises for 2012 include itineraries that visit Bora Bora, Tahiti, Cook Islands, Society Islands, Marquesas Islands, Tuamotu Islands, Fiji, Tahiti and Tonga. The luxurious on-board accommodations include spacious suites and staterooms (more than 70% with private balconies), an on-board water sports marina, a choice of three open-seating dining venues and an extensive spa. The ship also offers an on-board dive program, guest lecturers, a casino & piano bar, and complimentary 24-hour room service.
The thrilling shore excursions afford an opportunity to experience each destination in an authentic, meaningful way. Exceptional opportunities to explore the local environment, enjoy the white sand beaches, hike mountain peaks, and snorkel in the colorful lagoons abound.
"The shore excursions aboard our Paul Gauguin cruises are phenomenal, and the local Tahitian crew who serves as cruise staff, entertainers and storytellers adds exceptional personality to every cruise," said Brunger. "This is absolutely the most luxurious ship to sail in Tahiti on a year-round basis."
For more information on Paul Gauguin cruises or for Adventure Life reviews, call 800-344-6118.
About Adventure Life:
Adventure Life was founded in 1999 with a commitment to providing quality small group tours that have a positive impact on the local culture and environment. Adventure Life's trips explore local culture, ecology and life from remote villages, to bustling city markets, to the wildest jungles and mountains. The company's grassroots approach to travel utilizes local guides, family run hotels, and the local transportation infrastructure. Adventure Life is headquartered in Missoula, Montana, U.S.A, with partners throughout South and Central America. Adventure Life also offers the broadest selection of specialized expedition cruise services to the world's most remote destinations. For more information or Adventure Life reviews visit them on Facebook.
###