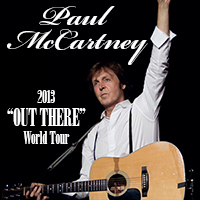 Paul McCartney fans should lock in the Best Seats now at eCity Tickets for the 2013 Out There Tour.
(PRWEB) April 12, 2013
Former Beatle Paul McCartney will tour the world in 2013 with his new "Out There!" tour. Paul McCartney tickets are always in high demand so fans should lock in the best seats now at eCity Tickets. The Paul McCartney Tour schedule announced so far includes dates in the US at Amway Center in Orlando, Frank Erwin Center in Austin, Fedex Forum in Memphis, Bank of Oklahoma Center in Tulsa, Fenway Park in Boston, Nationals Park in Washington, DC and Safeco Field in Seattle. More dates in North America are expected to be announced soon including a possible Paul McCartney July 23rd concert at The Plains of Abraham in Quebec to help celebrate the 400th anniversary of Quebec.
It was 43 years ago on April 10th 1970 that Paul McCartney announced he was taking a rest from The Beatles. That year ended the Beatles historic run as the biggest and most influential rock group of the era. Paul and his wife Linda formed Wings which performed several tours including the "Wings Over the World Tour" in 1975 and 1976. Paul McCartney starting having solo world tours in 1989 with the highly successful "Paul McCartney World Tour" and has performed solo ever since. With 60 gold discs and sales of over 100 million albums and 100 million singles Paul McCartney has be called the most successful composer and recording artist of all time.
The 2013 Paul McCartney tour will be a brand new production the greatest songs from the most beloved catalog in popular music. Paul is sure to perform songs spanning his entire career as a solo artist, as a member of Wings, and of course many of The Beatles great hits. As Paul McCartney turns 71 this year, this may be the final time fans will get to see this music icon on tour. But then again, Paul has been one of the most active and successful performers in music history.
Paul McCartney tickets are officially on sale today and fans should lock in their desired seats and ticket packages immediately. Limited VIP and Fan packages are available now for some venues. Of course, eCity Tickets has great seats in every price range even when others are sold out. As one of the leaders in secondary ticket sales, eCityTickets.com offers great seats with budget friendly prices and selection for the savvy fan. Get your Paul McCartney Tour Tickets today and don't miss this great 2013 concert event.