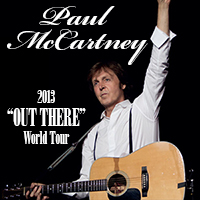 Fans can find great seats now for the Paul McCartney Tour concerts at eCity Tickets.
(PRWEB) April 19, 2013
Paul McCartney Tickets are sure to move fast today as the 2013 "Out There" tour tickets are officially on sale for the performances at Bankers Life Fieldhouse in Indianapolis, IN and Miller Park in Milwaukee, WI. Tickets are also available at eCity Tickets for the recently announced concerts at Barclays Center in Brooklyn, NY and the Paul McCartney headliner Outside Lands Music & Arts Festival at the Golden Gate Park in San Francisco California and the Bonnaroo Music and Art Festival at Manchester Farm in Manchester Tennessee.
The Paul McCartney Tour for 2013 has the former Beatle scheduled to play 15 concerts in North America so far. His plans call for performances at many major cities like Orlando, FL, Austin, TX, Tulsa, OK, Memphis, TN, Boston, MA, Brooklyn, NY and many more. In addition to his regular tour, Paul is headlining 2 major festivals as of this release. The Bonnaroo Music and Art Festival in Manchester, TN will also have performers like Mumford & Sons, Tom Petty and a large lineup of other greats. The Outside Lands Music & Arts Festival in San Francisco, CA includes a great lineup of stars including the Red Hot Chili Peppers, Willie Nelson, Hall & Oates and too many more to mention in this release.
The Paul McCartney tour for 2013 will be a brand new production the greatest songs from the most beloved catalog in popular music. Paul is sure to perform songs spanning his entire career as a solo artist, as a member of Wings, and of course many of The Beatles great hits. Fans can only guess how long this great star will continue to perform live. This may be the final time fans will get to see this music icon on tour. But then again, Paul has been one of the most active and successful performers in music history.
Paul McCartney tickets are officially on sale today in Indianapolis and Milwaukee and fans should lock in their desired seats and ticket packages immediately. Limited VIP and Fan packages are available now for some venues. Of course, eCity Tickets has great seats in every price range even when others are sold out. As one of the leaders in secondary ticket sales, eCityTickets.com offers great seats with budget friendly prices and selection for the savvy fan. Get your Paul McCartney Tour Tickets today and don't miss these great 2013 Paul McCartney concert events.